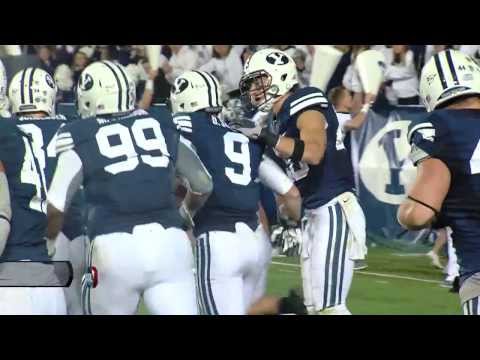 View 28 Items


It was good good to see our players smile and see them have success. They've worked really hard the last couple of weeks, especially rebounding after our loss a week ago. They were resilient.

—BYU coach Bronco Mendenhall
PROVO — The five turnovers aside, this was the kind of performance BYU needed.
Less than one week after a devastating loss to Utah, the Cougars — playing without their top wide receiver and top running back — overcame a slow start before scoring 30 unanswered points in a 37-10 victory over Middle Tennessee Friday night before a crowd of 58,763 at LaVell Edwards Stadium.
"It was good to see our players smile and see them have success," said BYU coach Bronco Mendenhall. "They've worked really hard the last couple of weeks, especially rebounding after our loss a week ago. They were resilient."
The Cougar offense, which entered the game ranked last in the country in pass efficiency, appeared to make some improvement in the passing game. While sophomore quarterback Taysom Hill rushed 18 times for 165 yards and two touchdowns, he also completed 14 of 19 passes for 177 yards and one interception. Hill completed his first five passes of the game.
"I thought our passing game was really good," Hill said. "That's traditional BYU football. We threw the ball on first and second down and we avoided third-and-longs, which kept the defense off-balance. ... I think that was the difference in the game."
Hours before kickoff, Mendenhall announced that senior receiver Cody Hoffman had been suspended for one game due to a violation of team rules. Running back Jamaal Williams did not play due to a concussion he suffered against Utah.
Other Cougars filled in the holes, as Hill averaged 9.2 yards per carry. Wide receiver Ross Apo caught four passes for 38 yards and Mitch Mathews hauled in three passes for 47 yards.
BYU improved to 2-2 on the season, while Middle Tennessee dropped to 3-2.
Meanwhile, the Cougar defense limited the Blue Raiders to just 212 yards of total offense and only one touchdown.
Then there were the five turnovers, which included two lost fumbles by JD Falslev on punt returns. He fumbled one other time on a punt, but he recovered that one. Falslev also had a 71-yard punt return for a touchdown.
"It was not as clean as I would have hoped," Mendenhall said of the game. "I was concerned with the ball security overall."
Mendenhall talked about turnover troubles with his team at halftime and after the game. He is also concerned about penalties, as the Cougars were whistled for nine penalties for 80 yards.
BYU's offense converted on 7 of 13 third-down conversions and scored three touchdowns on five trips into the red zone.
Middle Tennessee opened the game with a 50-yard kickoff return that set up a 42-yard field goal by Cody Clark to give the Blue Raiders a 3-0 lead.
BYU's Adam Hine answered with a 90-yard kickoff return. Three plays later, Hill ran into the end zone for a 12-yard touchdown to put the Cougars up, 7-3.
A fumble on a punt return by Falslev gave Middle Tennessee the ball in Cougar territory, and the Blue Raiders capitalized with a 16-yard touchdown pass from Logan Kilgore to Marcus Henry to make it 10-7.
Early in the second quarter, a Hill fumble gave Middle Tennessee the ball at its own 2-yard line. But one play later, linebacker Kyle Van Noy forced a safety, cutting BYU's deficit to 10-9.
The Cougars coughed up the ball again on their next possession, as Alisa fumbled into the end zone. After another defensive stop BYU scored quickly on a 50-yard zone-read run by Hill to stake the Cougars to a 16-10 advantage.
On his team's final possession of the first half, Hill directed a seven-play, 67-yard drive that culminated with a 2-yard touchdown run by Alisa, as BYU went into the locker room at halftime with a 23-10 lead.
The Cougars added to their lead early in the third quarter with a 60-yard drive that featured a good balance of running and passing. Alisa capped the drive with a 1-yard TD dive. At that point, BYU seized a 30-10 advantage.
With 28 seconds left in the third quarter, Falslev returned a punt 71 yards for a touchdown, lifting the Cougars to a 37-10 lead. It was the first time BYU had returned a punt for a TD since 2011, when Falslev accomplished the feat against TCU.
The Cougars turned the ball over again early in the fourth quarter on Hill's interception, which was tipped by a receiver. But Daniel Sorensen picked off a Middle Tennessee pass one play later.
BYU visits Utah State next Friday (6 p.m. MDT, CBS Sports Network).