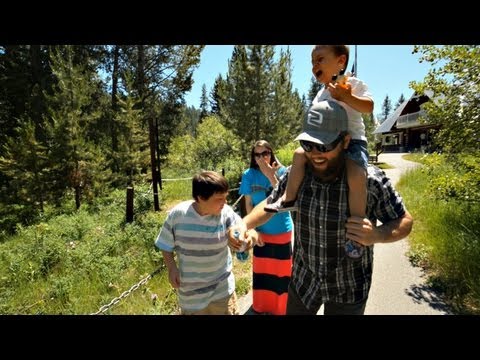 View 4 Items

But I feel like some of the strongest, happiest, moments that I've ever felt in my life are when I'm with my children, when I'm with my family.

—Shay Butler
The Church of Jesus Christ of Latter-day Saints released a Mormon Message video today featuring Shay and Collete Butler, a viral YouTube family known as the Shaytards.
The video is titled "Our Fun Family Vacation" and features clips of the Butler family spending time together and with extended family. For the past four years, the Butlers have documented their family through their own YouTube videos, often inspiring others because of the relationships they share with each other.
"In our lives these days there are so many things that are trying to matter to us: emails and phone calls and advertisements, and all these things that kind of barrage us," Shay Butler says in the video. "But I feel like some of the strongest, happiest, moments that I've ever felt in my life are when I'm with my children, when I'm with my family."
The video closes with a quote from President Gordon B. Hinckley, LDS Church president from 1995–2008:
"Successful marriages and families are established and maintained on principles of faith, love, compassion, work and wholesome recreational activities."
The video was posted Friday afternoon, and it has received many views and several comments from members of the LDS Church, as well as those who follow the Butler family on YouTube.
"Love this! The Butlers are just the best. I truly enjoy watching their videos. They show that the key to true happiness is found in love and family," one viewer wrote.
Meghan J. also commented, "Awe. Such a good video that describes the way a family should be. ... Great job, you guys. I am not a Mormon, but I aspire to have the kind of marriage that Shay and Colette have."
In a recent video blog, Shay and Colette Butler dedicated a video to discussing their Mormon faith. In that video, Shay Butler expressed his desire to share thoughts about religion openly because of the important role it plays in his family's life.
One commenter, Ayala Lesser expressed her appreciation for Butler's willingness to share.
"I've been watching some of the videos on the Mormon Channel since Shay referred to one of their videos. Although I'm Jewish, I have found a lot of comfort and inspiration in many videos, and I have noticed a great joy of life and family that Mormons hold. Makes you understand the reason behind the Butlers' way of life and all their happiness as a family!"