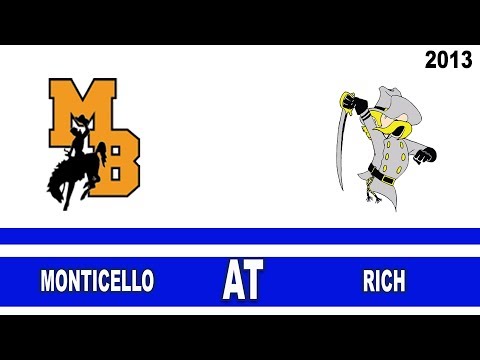 View 6 Items

RANDOLPH —The Rich Rebels needed a dramatic late game drive and a final defensive stop Friday to secure a homecoming win over the Monticello Buckaroos 20-19.
Monticello and Rich are well acquainted with each other meeting 11 times in the past 9 years. Monticello had won the last two meetings and boasts two 1A state championship wins over Rich in 2004 and 2001.
The familiarity between the teams showed as Monticello used a well disciplined defense to keep the Rich option run attack in check most of the afternoon. Rebel quarterback McKay Jarman found himself with no pitch option on many occasions and was forced to tuck the ball and run.
Heading into halftime Rich had a one point lead 7-6. However, the 3rd quarter belonged to the Buckaroos. Monticello's Dillon Maughan put the visitors ahead 12-7 with a 65 yard sprint up the middle of the field. Austin Maloy punched it in from a yard out later in the quarter to push the cushion to 19-7.
The Rebels took advantage of a bad snap which sailed over the head of the Buckaroo punter and put them on the 22 yard line. Jarman found tight end Skyler Argyle with a 10 yard touchdown pass to pull within a score 19-14 halfway through the 4th quarter.
A missed field goal attempt by the buckarooos gave the Rebels one more opportunity. The Rebels march highlighted by 32 yard pass from Jarman to Jayden Wallentine setting the home team up on the 5 yard line. Chalis Myers capped the 8 play drive with a run to the far corner of the endzone with the pitch from Jarman. The 20-19 edge would hold up as Monticello was unable to score in the final minute and the Rebel homecoming celebration was under way.
The Rebels (4-1) now make the long trip to visit Kanab (3-3) who are coming off a tough home loss (34-21) to Duchesne (6-0). The Buckaroos (2-4) will host Altamont (3-3).
Rich celebrates come from behind homecoming win over Monticello 20-19.
Highlights of 1A football game between Rich and Monticello played at Randolph September 27th 2013