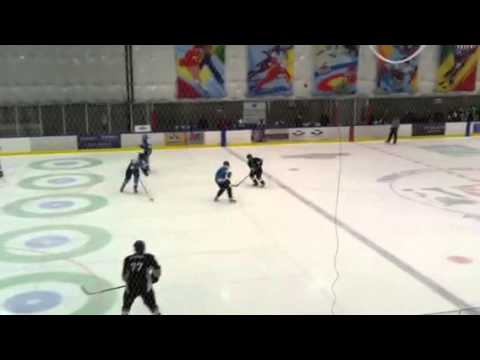 View 4 Items

We just want to establish a good, competitive team. We're young. We're so inexperienced on the ice right now, it will take some time. Our goal is to keep getting better while growing the sport here. I think we will be able to do that.

—R.C. Shuflin, Wasatch Back hockey coach
The great sport of ice hockey is making its way into Wasatch County.
Wednesday, the Wasatch Back made its unceremonious debut into competitive prep hockey with a very lopsided loss to the much more established North Ogden-based Swagg Hockey Club.
Despite the excitement involved with the first game of the season, there is no need to go into the Wasatch Back's 13-1 loss because the story goes much deeper than one game.
Unlike its rival, Park City, which is just up the hill in Summit County, hockey has had little to no presence in Wasatch. There is no state-of-the-art ice arena. There is no budding youth hockey league from which to grow, and very little support from the community.
But like the willingness to fight for your side that embodies the sport of hockey on the ice, the men and women who believe it can be a success in a town where it took the soccer team two state championships to finally get in the same mention of football, basketball and wrestling, are taking off their gloves.
Coaches Ryan "R.C." Shuflin and Volker Ritzinger, longtime coaches of youth hockey in the area, and team organizer James Soderborg, have put together Wasatch's first prep-aged hockey club with hopes of creating a buzz.
"We created this team with the intention to grow it," said Soderborg. "In Utah high school hockey, you're allowed to create what is called and 'independent team' with kids from your high school and some from surrounding counties. But it starts with the youth programs, which we are trying to establish."
Wasatch County has a privately owned and managed outdoor ice rink located in Midway. Up to now, management has resisted allowing a hockey league to use the facility for competitive hockey.
"We're working with them," added Soderborg. "The previous managers were not cooperative and made changes to the rink not conducive to hockey, but we continue to make ourselves available to them in hopes of working something out with the new management coming in."
It was obvious in Wednesday night's lopsided defeat that Wasatch has its work cut out for in growing the sport in its community. The team was undersized and lacked the skill and speed to compete with the more experienced club from Ogden.
That won't stop Shuflin from trying.
"We have four or five kids that can really skate and four or five who are just not ready," stated Shuflin. "So, we basically play all three periods with the same four or five on the ice. We don't have the kids who can sub in yet, but we will. We'll take this game (and) then look where we are eight games from now."
Hockey is, and can be, a pricey sport. Beyond finding arenas to play and practice in, like the facility in Park City, there are equipment costs and paying three referees for games.
Wasatch took the ice wearing light blue sweaters and socks. Not their usual school colors of black and gold. Personal equipment like helmets, gloves and skates came in a wide variety of colors and styles.
"We just want to establish a good, competitive team," said Shuflin. "We're young. We're so inexperienced on the ice right now, it will take some time," he added. "We have one senior on the team, that's it. Our goal is to keep getting better while growing the sport here. I think we will be able to do that. We've got a bunch of young guys from our youth leagues coming in next year, so we'll be much better."
Wasatch has a road game on Monday for its next test and about a dozen more games confirmed on the schedule.
Kenny Bristow is the staff sports writer for the Wasatch Wave and contributes to the Deseret News high school coverage for the Wasatch region. Email: kennywbristow@gmail.com. To contribute to DNews Preps for your area, enquire at 801.237.2143.