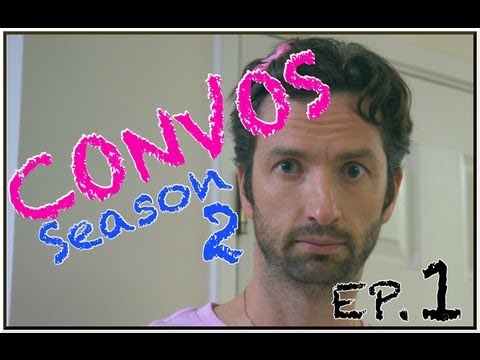 View 10 Items


Matthew Clarke is a singer, songwriter, actor, filmmaker — you name it. While he loved what he did and always dreamed for some kind of fame, he didn't think it would last once he and his wife started their family.
But this past May he was proven wrong when his first YouTube video, inspired by his 2-year-old daughter, Coco, went viral.
"I had this fear before we had kids that after children our lives would stop, or opportunities would stop. We'd be parents and tied down with responsibilities," Clarke said.
"It's crazy to think of that now because it's the total opposite. My experience has been that since having kids my life has opened up bigger than ever before."
Clarke's YouTube videos, "Convos with my 2-year-old," are usually around two to three minutes long and show different re-enactments of actual conversations he had with his 2-year-old. Yet, rather than starring his daughter, a grown man plays the role of his toddler.
"Anyone who spends a good amount of time with kids will know how funny they can be," Clarke said. "I had an insane conversation with my daughter and after thought, 'If she were an adult, she would be asked to leave the building.' "
After recognizing how entertaining his daughter's conversations had become, Clarke's creative brain began to build on his idea.
"I thought there was a lot of humor in that, and so I started writing down some of these conversations after they would happen," Clarke said. "Before too long, I had a collection of these 'scripts' and thought it would make for a great Web-series."
When forming the concept, Clarke turned to his friend David to play the role of his daughter.
"We've been creative collaborators for the last few years, and he also happened to be the most opposite of a 2-year-old girl of all the people I know," Clarke said. "It really was just an experiment that has gotten completely out of hand."
The YouTube channel finished its first season and just launched the first episode of season two this week. The success Clarke has received so quickly has been exciting, but the best part to Clarke has been spending time with his daughter.
"It's a huge bonus that we get to work together," Clarke said. "The only way to get material is for me to hang out with my daughter."
Clarke said that while this new opportunity has allowed him to spend more time with his daughter, he's been overly cautious not to always think about content when he's with Coco.
"I try to be conscious of not letting it get like that," Clarke said. "I just let things happen naturally, which is actually better than when you set things up. It's important that I have a good relationship with her."
Overall, Clarke expressed how grateful he is to be a parent, expressing that, "Having kids is the greatest opportunity to be the person you want your kids to be."