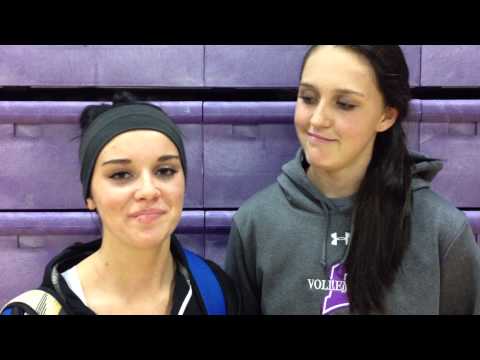 RIVERTON — Ali Greenwood stood at the end of the volleyball court and tried to forget how much making her serves would mean to her team.
The junior was asked to check into the fifth set of a region match just minutes after a controversial call led to her coach receiving a yellow card.
"It was a little nerve-wracking because all of that was going on," said Greenwood. "I had to go in right after that so when I went back there, I just took a deep breath and thought about putting the ball in."
Her strategy worked as she served the last five points, including an ace, for the Pioneers' five-set victory (25-20, 16-25, 20-25, 25-22, 15-10) over Region 4 rival Riverton. The loss was the first for the second-ranked Silverwolves.
Lehi head coach Jamie Ingersoll said the Pioneers play best when a lot of players are involved.
"Our key has been that we've got to be balanced," she said. "We struggle when we go to the same spot over and over. We have to have our right side, outside and middles all touching the ball. Especially in this match because Riverton is such a great defensive team."
While the see-saw games are tough on a coach, they're actually great opportunities for players to learn how to deal with the mental challenges of the game.
"You want to have these kinds of experiences now," Ingersoll said. "You don't want the first time you deal with a situation like this to be at the state tournament. You've got to know how you will respond." And the Pioneers now know they have the ability to stay composed, to make adjustments and to deliver in high-pressure situations.
Comment on this story
"Ali came in in game five and made the last five serves," said Ingersoll. "That's a pressure situation. That's mental toughness. … You love yourself or you hate yourself at those moments." Greenwood said the victory is important because it gives the Silverwolves a loss, creating a three-way tie between Lehi, Riverton and Pleasant Grove for first place.
"It feels great," she said. "It means a lot because it's Riverton's first loss."
Libero Cydney Lund finished with 20 digs and passed a 2.0. Rylin Roberts led the team's offense with 19 kills and four aces, while McKayla Houghton added 12 kills.
"We needed that on," Lund said. "After that tough loss to Pleasant Grove, this helps us. … We're finally starting to finish that fifth game."
Adds Greenwood, "This helps us grow as a team."
Twitter: adonsports
Email: adonaldson@deseretnews.com