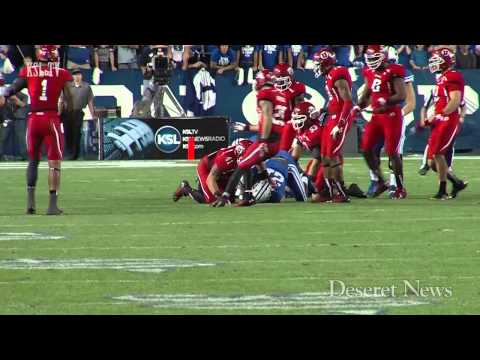 View 2 Items

SALT LAKE CITY — Jared Norris exploded onto the scene in Saturday's win over the BYU Cougars.
In the win in Provo, he led the team with nine tackles, including one for a loss, bringing two things to Utah's linebacking group that it has desperately needed since the beginning of the 2012 season: consistency and productivity.
"Jared was very productive on Saturday night," Utah head coach Kyle Whittingham said. "He is a physical, tough inside linebacker. One of our defensive leaders, he is a good leader for us. He's inspirational for the defensive side of the ball and keeping people emotionally in the football game."
This video highlight revisits some of Norris' best tackles from the BYU rivalry game and his priorities heading into Utah's bye week preceding the beginning of Utah's 2013 Pac-12 campaign.
Norris had a spectacular game against BYU. Soon we'll see how he and the rest of the Utah defense follows it up against the Pac-12.
Landon Hemsley is the sports web producer for DeseretNews.com. Email: lhemsley@deseretnews.com. Twitter.com/EarlOfHemsley