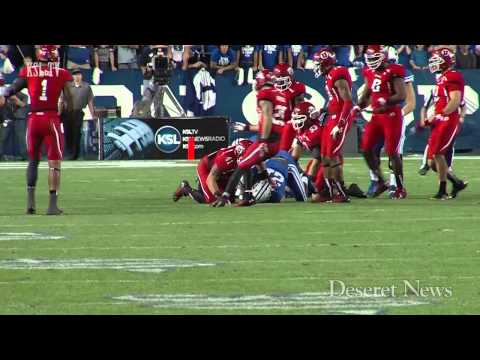 View 4 Items

SALT LAKE CITY — Next week will be extra special for Utah's Dres Anderson. Playing against UCLA always is for the wide receiver.
The junior grew up as a fan of the Bruins — and with good reason. His father, Willie "Flipper" Anderson, and uncle, Paco Craig, played for them before moving on to the NFL.
As such, Dres Anderson looks forward to the annual meeting between Utah and UCLA. This year's game is set for Thursday, Oct. 3 (Fox Sports 1, 8 p.m.) at Rice-Eccles Stadium.
"Oh yeah," he said. "Everybody's going to be talking about it in the Anderson household."
There's no division, however.
"They're going to be going for us, you know, because I'm here," explained Dres, who noted that even his uncle Paco — a diehard UCLA fan — will be rooting for Utah next week. "It's great, you know. Family is deeper than the school."
Anderson enters the game as Utah's leader in receiving yards (404), receiving yards per game (101), receptions (18) and touchdown catches (three).
STEPPING FORWARD: Sophomore linebacker Jared Norris led the Utes with a career-best nine tackles in last weekend's win over BYU.
"Jared was very productive on Saturday night. He's a physical, tough inside linebacker — one of our defensive leaders," said Utah coach Kyle Whittingham. "He's a good leader for us. He's inspirational for the defensive side of the ball and keeping people emotionally in the football game."
Norris, who has started all four games this season, has 25 tackles (13 solo) with two stops behind the line of scrimmage. He has also broken up two passes and forced a fumble this year.
KICKING IT: So far, so good for Utah kicker Andy Phillips. The 24-year-old freshman, who had never played in a football game before this season, has proved to be a natural. The former U.S. ski team racer is a perfect 7 for 7 on field goals and a Pac-12-leading 21 for 21 on PATs.
"That has been a big plus for us. That is something that we have really had a big benefit from," said Whittingham, who added that what Phillips has accomplished thus far has been really remarkable. "Now we are only a third of the way through now, but every week seems to be the same story. So if that continues, then we've got a heck of a weapon for us."
EXTRA POINTS: The Utes are 6-2 after bye weeks under Whittingham. ... Thursday will be Utah's annual "blackout game." The Utes will don black uniforms and fans are encouraged to wear black attire. ... Along with the state championship (wins over BYU, Utah State and Weber State), Utah has won the Beehive Boot. ... Utah's coaches will wear "Coach to Cure MD" patches on the sideline against UCLA to support the American Football Coaches Association's national charity project.
Twitter: @DirkFacer