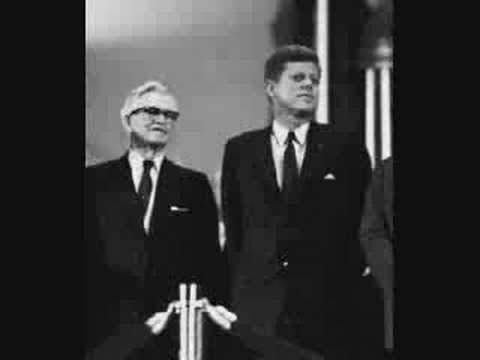 View 39 Items
YouTube


We find ourselves entangled with apparently unanswerable problems in unpronounceable places. We discover that our enemy in one decade is our ally the next. We find ourselves committed to governments whose actions we cannot often approve, assisting societies with principles very different from our own.

—President John F. Kennedy
SALT LAKE CITY — President John F. Kennedy considered a speech he gave in the Salt Lake Tabernacle on this day 50 years ago among the best in his short time in the White House.
Salt Lake attorney Oscar W. McConkie Jr., who worked as Kennedy's point man during the 1960 presidential campaign, helped renowned speechwriter Ted Sorensen craft the address.
"The president's little brother, Bobby, told me that the president thought this was one of the one or two best talks he'd ever given. He had a copy of it made to give to his father and mother," McConkie said.
Kennedy's overnight stop in Salt Lake City on Sept. 26, 1963, came in the middle of a five-day, 11-state trip starting in Pennsylvania and ending in California. It marked his fifth and final visit to Utah — he came twice as a presidential candidate in 1960 and twice for Democratic fundraisers as a Massachusetts senator in 1957 and 1959.
"This was a time of huge turmoil, but the president chose to come out to little Salt Lake City and speak in the Mormon Tabernacle," said McConkie, now 87.
Thousands of Utahns greeted the president at the airport with signs such as "Welcome back Jack," "Utah for J.F.K." and "The West needs Kennedy." An estimated 125,000 people lined downtown streets to catch a glimpse of him riding in an open limousine, the same car in which he would be assassinated two months later in Dallas.
Ray Boren stood on North Temple along with his Jackson Elementary School classmates waving American flags and screaming as the motorcade headed to the airport the next morning. He had his first camera with him but as a 10-year-old seeing the president, he said he was too excited to use it.
His glee turned to sadness eight weeks later when he learned Kennedy was shot to death. Just three days earlier, his sister received for her birthday a Camelot paper doll set featuring the first family.
"I thought it was very poignant," said Boren, a retired newspaper editor. "It went from a joyous thing to a sad thing."
Kennedy spent most of the cross-country tour that took him to places such as Laramie, Wyo., and Great Falls, Mont., talking about conservation.
But in Salt Lake City, he devoted his 27-minute speech to foreign policy. He extolled the perseverance of Mormon pioneers, praised Utah's high school graduation rate and explained his vision for America as a superpower.
"The Tabernacle was filled, yet he was speaking to the nation. He was speaking to the world," said Tim Chambless of the University of Utah's Hinckley Institute of Politics, who listened to a recording of the speech this week.
Kennedy made a case that the United States could not go back to being isolationist, that it must "support the independence of nations so that one bloc cannot gain sufficient power to finally overcome us."
Chambless described it as forcefully delivered, substantive speech that set the tone for American foreign policy for the decades that followed. Kennedy, he said, convincingly reassured Americans and countries that depended on the United States that it was going to be an active player in the world because it needed to be.
Kennedy also respectfully and politely opposed his critics who called for a return to "Fortress America," Chambless said.
The 35th president took office in the midst of the Cold War and nuclear arms race with the Soviet Union. By 1963, thousands of U.S. troops were on the ground in Vietnam. He arrived in Utah a year removed from the Cuban missile crisis and construction of the Berlin Wall.
"We find ourselves entangled with apparently unanswerable problems in unpronounceable places. We discover that our enemy in one decade is our ally the next. We find ourselves committed to governments whose actions we cannot often approve, assisting societies with principles very different from our own," Kennedy said.
But he said it would be folly to abandon America's influence in the world because it would invite communist expansion. Without the United States "the chances of freedom surviving, let alone thriving around the globe, are nonexistent."
The longest of six ovations he received from the overflow Tabernacle crowd came when Kennedy mentioned the nuclear test ban treaty the U.S., Soviet Union and other nations signed in the summer of 1963, calling it "one chance to end the radiation and possibilities of burning."
Kennedy said in the speech that he knew many Americans wondered why the United States was involved in so many countries around the world, and used Mormon pioneers as an example of pushing on against all odds.
"If our task on occasion seems hopeless, if we despair of ever working our will on the other 94 percent of the world's population, then let us remember the Mormons of a century ago were a persecuted and prosecuted minority, harried from place to place, the victims of violence and occasionally murder, while today, in the short space of 100 years, their faith and works are known and respected the world around, and their voices heard in the highest councils of this country," he said.
"As the Mormons succeeded, so America can succeed, if we will not give up or turn back."
Kennedy closed his speech with a phrase from LDS scripture, section 136 of the Doctrine and Covenants, that McConkie had suggested.
"I think the country will continue to its commitment to support the world in freedom, for as we discharge that commitment we are heeding the command which Brigham Young heard from the Lord more than a century ago, the command conveyed to his followers, 'Go as pioneers to a land of peace.'"
Email: [email protected], Twitter: dennisromboy