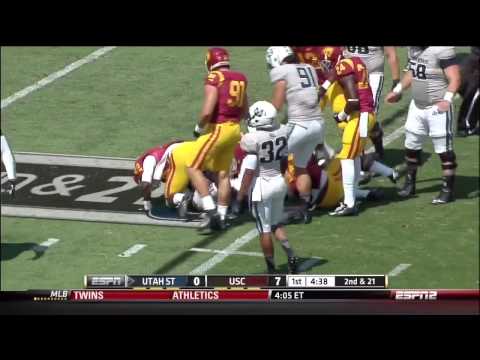 View 4 Items

It's still a burning desire to try to get it flipped and win some of those games. But to go play USC on the road against a top-10 defense and have the game go down to the last possession, I'll take it.

—Matt Wells, USU head coach
You know who would be national champions if close counted?
Utah State's football team.
Last week's three-point loss to USC in the Coliseum is just the latest in a string of narrow defeats.
The Aggies' won-loss records over the past two-plus seasons are 7-6, 11-2 and 2-2 (so far). But if not for fumbles, missed field goals, onside kicks, extra-point failures, blocked punts and more, they could very well be 29-1, or possibly, if you're really reaching, 30-0.
"That would be pretty sweet," said USU coach Matt Wells. "I didn't think about it like that. That's very interesting."
They've lost 10 games since 2011 and nine of them were by a touchdown or less (the other was by 10 points). They held the lead in the second half in nine of them. They held the lead in the fourth quarter in seven of them. They outgained their opponents in eight of them (the two losses to BYU being the exceptions). They have given up game-winning touchdowns in the final 42 seconds in four of them.
"You can't point your finger on one thing — offense, defense, special teams," says Wells. "It's been pretty consistent — it's a team game."
The good news: USU, one of the worst teams in the country only a few years ago, can go toe to toe with quality opponents. They've won 18 of their last 23 games, losing by deficits of 1, 2, 3, 4 and 3 points, respectively.
The bad news: They can't quite finish the job.
"USU has come a long way in the last 15 years," says Wells. "Those games used to be 40-point blowouts. Now we're going into Auburn and the Coliseum and Madison and Utah and BYU and playing for the win in the fourth quarter. It's still a burning desire to try to get it flipped and win some of those games. But to go play USC on the road against a top-10 defense and have the game go down to the last possession, I'll take it."
Here's a look at what might have been for USU.
Doug Robinson's columns run on Tuesdays and Wednesdays. Email: [email protected]