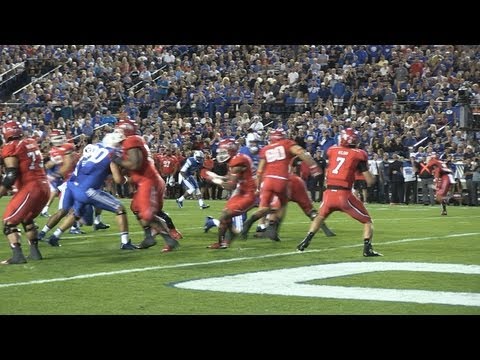 View 5 Items

SALT LAKE CITY — Travis Wilson picked up more than his sixth victory as Utah's starting quarterback Saturday at BYU.
In the wake of the Utes' 20-13 win over the Cougars, the sophomore also scooped up a couple of individual awards for his performance — Athlon Sports National Offensive Player of the Week and Pac-12 Offensive Player of the Week.
Wilson received the honors after completing 24 of 35 passes for 273 yards and two touchdowns in the rivalry game.
"His numbers have been terrific all season long," said Utah quarterback Kyle Whittingham. "He's doing everything we need a quarterback to do. He's taking care of the football. He's very efficient in the throw game."
Whittingham noted that Wilson is a very capable runner as well.
While leading the Utes to a 3-1 record, the 6-foot-7 signal-caller has racked up some impressive statistics — ranking eighth in the nation in points responsible per game (21), 13th in yards per completion (15.11) and total offense (342.3 ypg), and 23rd in passing yards (279.5 ypg). He's third in the Pac-12 in rushing yards per carry (7.8) and 12th in rushing yards per game (62.8).
"He's just got to keep everything heading in the direction it's heading. There's no real area where I can say 'OK, this is what his weakness is right now; he needs to work on this,'" Whittingham said. "Because there really is no weakness. Everything is coming together. But there's always room for improvement.
"(However), as long as he continues to do the things he's done for us in the first four ballgames, we're going to have a chance every week," he added.
Wilson's progression this season has been measured by consistency — topping 200 yards passing in all four games.
"He's getting better and better every week. We didn't have any turnovers this week and that was great," said wide receiver Dres Anderson. "His confidence and just being a leader has been growing and growing. Every week his progression has been nothing but good for us."
Wilson, though, is far from satisfied. Although pleased not to turn the ball over against BYU, he acknowledged there are still some things that need to be cleaned up on the pass game.
The only interceptions that Wilson has thrown this season, though, came in a 51-48 overtime loss to Oregon State when he was picked off three times. Other than that, Wilson has proved to be quite accurate.
For the season, Wilson has completed 74 of 115 passes for 1,118 yards and nine touchdowns. He's also rushed for 251 yards and five scores.
In the BYU game, Wilson led Utah on four scoring drives. The Utes wound up with 404 yards of total offense against a highly touted BYU defense.
17
comments on this story
"They were pretty much what we expected. They definitely brought a lot of pressure," Wilson said. "But our O-line did a great job of blocking that up and getting me protected. Our wide receivers did a great job of getting open, so I got the ball out quick."
Wilson was sacked just once.
The overall efficiency led to the national honors from Athlon Sports a day later.
"It's really huge and I'm really grateful to get that kind of recognition and that award," Wilson said. "So I'm really happy and I give it to all the rest of my players, too, because they're the ones making the big plays."
Email: dirk@desnews.com
Twitter: @DirkFacer