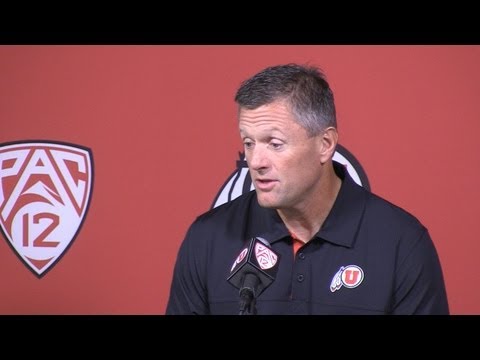 View 2 Items

SALT LAKE CITY — Utah head football coach Kyle Whittingham addressed the media Monday, Sept. 23, 2013, following the Utes' 20-13 win over Brigham Young.
The Utes are off this week. Following their bye week, they will play against the UCLA Bruins on Thursday, Oct. 3, 2013.
Don't have time to watch the whole video? Download the audio and take it with you.
On mobile? Click here to watch the video on YouTube.
Kyle Whittingham (KW) — First off, it was great news to hear that Jamaal Williams is going to be OK. It wasn't as serious as it could have been. That was very positive to hear and we are all glad about that. It was good to get the win. Our guys played hard. We played with a lot of passion and a lot of emotion. Our defense was outstanding, particularly in the red zone. The two or three key points to the game: Offensively we did not turn the football over. That was probably the most important thing and the most valuable thing that our offense did for us. Defensively it was the red zone defense, and that was really good to see. We've struggled in the red zone for a while and in weeks past; it's good to see that get corrected, and hopefully it will stay that way.
On to UCLA. This week obviously is a bye week, but we do play Thursday of next week. So it's not a typical bye week for us where we have the full two weeks off. We will take tomorrow and Wednesday off with the players. Bring them back on Thursday and get going towards UCLA. So a little bit different structure than our usual bye week when it's a Saturday game at the tail end of it. We got Ute Pac-12 conference play coming back. We got to get back on track there and we got to find a way to get after UCLA, so that's where we are at.
Reporter: Can you talk about Dres Anderson's emergence as a receiver? He's leading the team in receptions, receiving yards, yards per game and touchdowns.
KW: Yeah, Dres has been a big plus for us this year. I've been waiting for Dres to step up and put up those kind of numbers for a couple of years now. This year is the year that he has come into his own. Could of very easily had a couple hundred yards in that game Saturday night. Had a couple of drops that would have put him over 200 yards which would have been even more prolific than he already was. Dres is our go-to guy on the outside, and he's performed very well for us through four games, and I think he has even more upside to give than you see right now. I think he is going to continue to develop. So we are hoping that is the case.
Reporter: Can you talk about Bubba Poole, not only his emergence of the last two games, but a guy who has really come deep down on the depth chart? From spring to really making an impact for you now, being your featured back.
KW: Bubba has done nothing but work hard every day in practice. As you mentioned, he was down the line a little bit on the depth chart, but he is a guy that is a great example of perseverance and hard work and just staying after it, and it paid off for him. He is now the lead guy, and he's running the ball effectively — almost got nearly 100 yards on Saturday. He's catching the ball as well, and he's a valuable part of our offense. Not that we've gone completely away from Kelvin York, as he is going to work himself back into the rotation if he continues to do things well in practice and that type of thing. So even though Kelvin is taking a back seat to Bubba right now, he is not completely out of the mix, but Bubba is definitely our number one guy. Like I said, it's just a product of his work ethic and how he has handled his business.
Reporter: You could tell that there was so extra jubilation on the field after the game Saturday night by players and coaches. Can you talk about the importance of not facing BYU again until 2016, with a four-game winning streak and what that means for the program and the fact that you are 3-0 against all of the in-state teams?
KW: Yeah, it was an in-state sweep, it finished off all the in-state games. Having a two-year break in the series meant that we were not going to have the opportunity to play for the next two seasons. It was important to go out on a winning note. We really emphasized the seniors winning this game and never having lost in the rivalry game. Which is something that has not happened a lot in the history of the rivalry, at least not in the last 40-50 years. As important as anything else is coming off a loss to Oregon State and getting back on track. We did not want to go into this bye week with two straight losses.
Reporter: BYU had 30 incompletions. Can you remember a game where your defense forced the offense to have 30 incompletions before?
KW: Yeah that's a lot of incompletions. I mentioned in the highlights of why we were able to win the football game. There was some positives as well, and the pass coverage was one of those and the way the corners played in particular and the safeties. To my recollection, I cannot remember a game where there has been 30 incompletions. They did throw the ball 48 times, which is quite a few times. Pass coverage always starts on the line of scrimmage. I thought we got after the quarterback well, we had five sacks. We missed several opportunities. That guy is hard to sack. He is a lot like Chuckie Keeton how he moves around in the pocket. Not quite as elusive as Chuckie but more powerful and harder to get down. When you put it all together with the pass rush and improved coverage in the secondary, I think that is one of the reasons why you saw a low completion percentage.
Reporter: Did you have any season-ending injuries in that game?
KW: No. No season-ending injuries to our knowledge at this point in time. We expect things to be all right.
Reporter: You have a meaty section of the schedule coming up with a couple of ranked teams on the schedule. As you prepare for the heart of this schedule, what are some of the things that you guys need to tighten up?
KW: The pass coverage needs to continue on the trend that it started on last Saturday night. We need to make more plays on the ball. I think that is something that has got to continue to improve. We weren't quite as good on special teams on Saturday as we usually are. That is usually an advantage for us. It was a wash at best. I think that is something that has got to improve for us. Offensively we are doing a lot of good things on offense, but third downs were not good at all on Saturday night. We were one of 14. That is not good, and we cannot have that continue. Third downs on both sides of the ball have been average at best all season long. That is something that's got to improve. Both in getting out of drives defensively and sustaining and keeping drives alive offensively.
Reporter: Can you talk about some of the quarterbacks that you are going to face and how they compare to some of the ones in the past as far as quality?
KW: There are a lot of good quarterbacks in this conference. Just about every team has a quality quarterback, so it's hard to single any of them out. The Pac-12 conference is loaded with talent not only at quarterback but on the perimeter as well with the wide receivers. We just got to be ready and defensively we got to bring our A-game every week in order to have a chance to compete. It's going to start with our defensive line. I think we are second in the conference in sacks. If we can continue to get pressure on the quarterback, that's going to be a key. One of the other keys to the game on Saturday night I thought we won the line of scrimmage without a doubt with our defensive line against their offensive line. If that trend continues, I think we will be in pretty good shape.
Reporter: Talk about the maturity of Travis Wilson, getting better every week and winning the National Player of the Week award.
KW: His numbers have been terrific all season long. He was the National Player of the Week for offense, which was a great award for Travis. He is doing everything we need a quarterback to do. He is taking care of the football, he's very efficient in the throw game, and when he does pull it down and run, although it wasn't as effective on Saturday night, he is a very capable runner. So really he just needs to keep everything heading in the direction of his head and there is no real area where I can say OK, that is what his weakness is right now, right now there is no weakness. Everything is coming together, but there is always room for improvement. As long as he continues to do the things he has done in the first four ballgames, we are going to have a chance every week.
Reporter: Can you talk about Jared Norris' performance on Saturday? Also what have you seen from UCLA and have you looked at the film yet?
KW: Jared was very productive on Saturday night. He is a physical, tough inside linebacker. One of our defensive leaders, he is a good leader for us. He's inspirational for the defensive side of the ball and keeping people emotionally in the football game.
As far as UCLA, they have a lot of skill. They have good skill, quarterback is playing well, receivers are talented and they are a well-rounded football team overall. They are very good on defensive. Right now I haven't studied them in depth yet, but when I had a chance to watch them play — I saw some of the Nebraska game — they are a well-coached football team, and they got good athletes.
Reporter: You put the benchmark at five plays of plus 20-yards or more. So far through four games, you have already had 29. What would you credit that to mostly?
KW: I think it is a combination of things. First of all, better quarterback play, the receivers are making plays on the outside. Dres Anderson is doing a nice job with being explosive on the outside. Offensive line has given us time to make those throws. We have a lot of deep crossing routes that require great protection and giving Travis time to get the ball out. So I think it's a combination of those three or four factors that have allowed us to be more explosive, which we needed to have happen.
Reporter: UCLA's quarterback is a threat to run and pass. Having faced mobile quarterbacks early on in the season, does it give the defense a template of how to prepare for UCLA's quarterback?
KW: I think it was good preparation. We are going to face a bunch more of those guys not only this week but throughout the rest of the season (most weeks). In this day and age in football, accounting for the quarterback running the football in a pure quarterback run series as well as moving around in the pocket. Quarterbacks as a whole are so much more athletic than they used to be, so every week is a challenge for us to make sure we structure the defense to account for the quarterback every play, essentially.
Reporter: Coming off the performance against Oregon State, granted Taysom Hill is probably is not as skilled as Sean Mannion, but is there a lot of confidence going forward with the secondary?
KW: We hope so. We had meetings today and we have a long way to go, but if we take steps forward like we did between Oregon State with this past ballgame each week, then we will be in good shape. We still have a ways to go; there are a lot of things to clean up in the secondary, some misalignments, some bad eyes, some things that are very fixable. It was a huge improvement over the Oregon State game, and we need that trend to continue. As long as these guys have the right mentality, the right work ethic and they come to practice and work the way they did last week, I think we will continue to progress.
Reporter: Four games into the season and your freshman kicker still hasn't missed. Can you talk about what a story that has been?
KW: Yeah, great contribution for our football team. I think he is seven for seven on field goals and perfect on his PATs. So that has been a big plus for us. That is something that we have really had a big benefit from, and his performance as a true freshman, never having played at any level of football, it's really remarkable what he has does so far. Now we are only a third of the way through now, but every week seems to be the same story, so if that continues, then we've got a heck of a weapon for us.