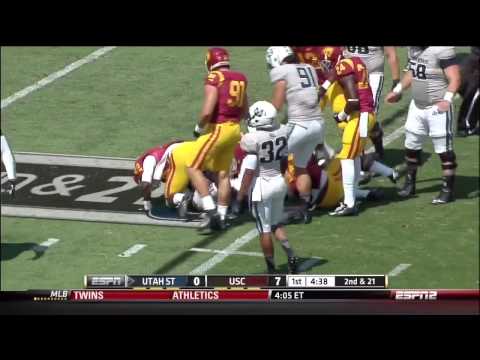 View 37 Items

We're going to walk out of here with our chest stuck out and our chin up and are very humble and very proud of who we are and what we do and where our program is...

—Matt Wells
LOS ANGELES — Coaches never want to say too many good things about a loss because, after all, it's all about winning, isn't it?
However, after Saturday's 17-14 loss to USC in the L.A. Memorial Coliseum, Utah State coach Matt Wells wasn't singing the blues.
When asked how he felt after yet another close loss to a major program — following Aggie losses to Texas A&M, Oklahoma, Auburn and Wisconsin over the past four seasons — Wells took the positive approach.
"We're going to walk out of here with our chest stuck out and our chin up and are very humble and very proud of who we are and what we do and where our program is,'' he said. "It's a close loss, but we're not going to go home and cry about it. We have games coming up.''
Wells would have loved to have defeated a Pac-12 opponent, especially after losing to another Pac-12 foe, Utah, in Week 1. But he knows it's all about the conference season, which starts back up this week at San Jose State Friday night.
"We'll regroup and rebound,'' said Wells. "We have a short week coming up against San Jose and we have every goal ahead of us that we want to play for, including the Mountain West championship. We'll regroup and move on."
The Aggies know they aren't likely to face any tougher defenses than they saw Saturday afternoon.
The Trojans were the fourth-ranked defense in the country coming into the game and the defense had given up just two touchdowns all season, both in the fourth quarter of easy wins. The Aggies matched that with a pair of touchdowns thrown by Chuckie Keeton, but after the second TD in the middle of the third quarter, the Aggie offense went stagnant.
On USU's next two possessions in the third quarter, the Aggies went minus-1 yard on the first and minus-2 yards on the second.
In three possessions in the fourth quarter, the Ags could never get to midfield. Three times in the fourth quarter, the Aggies went for it on fourth down in their own territory, the first on a fake punt with a pass by 260-pound tight end D.J. Tialavea.
The Trojans covered it well and knocked the pass away, but Wells said he didn't regret the call. Perhaps that's because the Trojans went three-and-out and didn't capitalize.
21
comments on this story
Then on fourth-and-1 at their own 39, the Aggies went for it and converted. But on fourth-and-10 with 3:40 left, the Aggies went for it, but Keeton was dragged down 4 yards short of the first down. That was it for USU's hopes.
"We're going to be aggressive at the end,'' Wells said. "We came here to win.''
Although the offense struggled, the USU defense played well in holding USC to 282 total yards.
Jake Doughty and Zach Vigil both had 12 tackles for the Aggies and Maurice Alexander added nine. Kyler Fackrell had two sacks.
The USU-San Jose State game will be played Friday night (7 p.m. MDT) and be televised on ESPN.
Then the following week, the Aggies will play another Friday night game when they host BYU.