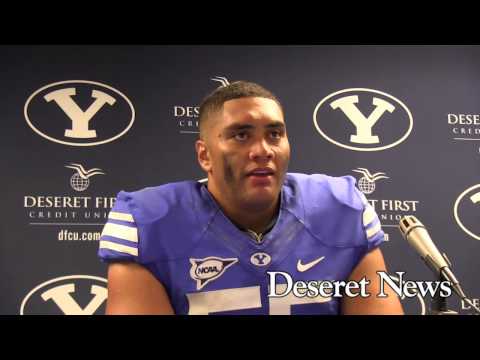 View 89 Items



PROVO — Utah's 20-13 victory over BYU Saturday night was full of headaches, outstanding plays for both teams, and best of all, it had an ending that was a pure example of what this rivalry game is.
With a two-year break in the series looming, this game was a perfect way to seal the rivalry. Well, maybe not, if you're a Cougar fan.
Going into this game, the outcome was a total toss-up. Both teams have showed exemplarly play-making abilities and produced some great games, but with Utah's 51-48 overtime loss to Oregon State last week and BYU's 19-16 first-week fiasco at Virginia, no one knew what to expect from either team.
Breaking down this game the outcome really depended on two key aspects of the football field: quarterback play and defense.
Quarterback play
Against BYU's fantastic front line, Utah quarterback Travis Wilson maintained composure and delivered a nice game by going 24-of-35 for 273 yards and two touchdown passes. The big key for Wilson, though, was he didn't turn the ball over and was sacked only once. This is a huge improvement from last week's game against the Beavers where he threw three interceptions.
BYU's Taysom Hill showed much of what Cougar fans have been dreading: a dismal passing game. He went 18-of-48 (37.5 percent) for 260 yards and was sacked five times. That's not to say he didn't make great plays for his team, rallying them back in the second half to within a touchdown, but his lack of accuracy with the ball cost his team greatly when he had receivers wide open across the field.
Victor: Wilson
Defense
BYU has one of the best defensive lines in the country and with LB Kyle Van Noy leading the charge, they are a hard group to defend for any offensive line. On this night however, it seemed Utah got the better push up front offensively and allowed Utah RB James "Bubba" Poole to run the ball for 96 yards on 18 carries, including a 65-yard run.
BYU did cause a lot of problems for Wilson by making him roll out of the pocket and force him into some bad throws, but it wasn't enough to stop the Utes.
Utah didn't fare to well against the run either. The Utes gave up 183 yards on the ground, but they did stop the passing game for the most part. They eliminated BYU WR Cody Hoffman for most of the first half and made the big stops on third down. That is what gave Utah the victory.
Safety Eric Rowe almost cost the Utes the game, though, when after the Utes stopped the Cougars on third-and-long, he got called for unsportsmanlike conduct penalty, keeping the drive alive. BYU eventually went on to score.
Victor: Based solely on the final score you have to give it to Utah for making the key stops when necessary.
Side Note
When the clock was winding down and Hill threw one last ditch hail marry pass into the end zone, I couldn't help but notice the Utah fans start gasping for breath as images of the 2006 game came into their minds. Luckily for them, this game went the Utes' way in their fourth straight win over the Cougars.
Alex is currently a student at the University of Utah studying communications. He has been a writer for The Daily Utah Chronicle and the Deseret News and has worked as an anchor and reporter for the U.'s Newsbreak. Contact utahmanalex@gmail.com