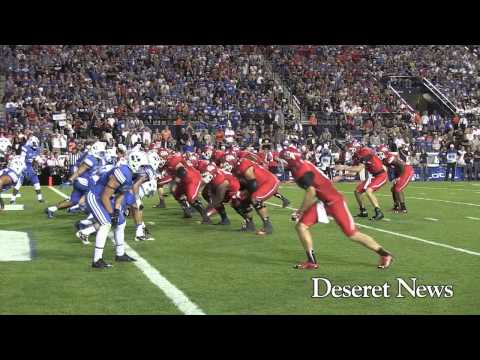 View 88 Items


PROVO — There are dangers ahead for the Utah football team. Perils of all sorts await. The Utes play in one of the most dangerous conferences in America. Wins of any kind could be rare from here on. But in Utah? No problem. OK, some problems, but as they say on the sitcoms, "I got that."
Saturday at LaVell Edwards Stadium, the Utes beat BYU for the fourth straight year and ninth time in the last 12 years. Yes, it's dominance, in an end-result kind of way.
Utah coach Kyle Whittingham, who agonized to the 11th hour deciding which of the two schools to coach, is now 6-3 against Bronco Mendenhall, who against his nemesis looks increasingly like someone's second choice.
Michael Walker's interception with 1:37 remaining sidetracked BYU's best late try, and a punt kept the Cougars at safe distance. It's possible BYU will finish with a better record than Utah, considering the smattering of low-voltage opponents left on BYU's schedule such as Middle Tennessee, Houston, Nevada and Idaho State. But now Mendenhall must live three more years before he even gets a chance to change anyone's mind.
Of all the losses to Utah in the last 20 years — which is now up to 14 — there have been some daggers to the Cougars' hearts. But it's hard to imagine any hurting more than this, a 20-13 verdict. Three years of torment, i.e. Bronco of a Thousand Days.
Exactly why Whittingham is increasing his lead on Mendenhall is complicated. It's true that Utah is usually more athletic. But both have proven to be competent coaches, great on some years. Both made their names on being tough defensive coaches. Who knows, maybe Whittingham beats BYU because he played there. He knows how to get inside their heads.
As former Cougar Jonny Harline said early this week, the Utes seem to play the series with more abandon and less angst. Not that Mendenhall hasn't tried. Boy has he tried. He shuts down media access on Monday the week the Cougars play Utah. In his own words, he tries to mute out the din around them. Through the years he has employed commemorative coins, scriptural heroes and of course tradition, spirit and honor to rally his troops.
Whittingham doesn't try much gimmickry. He goes out and smashes 'em in the mouth. And if Mendenhall ever gets fired before he quits, he'll be able to trace it to losses to Utah, a team the Cougars used to squash like spiders in the kitchen.
In the era of BYU's independence, the game means more to BYU than Utah. So how come the Utes play like it's the only game on their schedule? There were some moments of lost composure for the Utes, such as the third-down breakup that ended in a taunting penalty on junior Eric Rowe. That led to BYU's touchdown that cut the lead to seven with 5:13 to go.
A couple of other penalties kept the Utes' hopes alive. But the Utes locked down late, forcing BYU's Taysom Hill to attempt what he hasn't proven he can do consistently — complete passes. The Cougars had one more series after Walker's interception but completed nothing.
BYU took the field wearing its special-event royal blue. So did much of the crowd, which was decked out in tees bearing a twist on the familiar fight song lyrics. They said, "Royal, strong and true." But there was another switch with a hitch: the Cougars also wore royal blue pants, instead of white. Meanwhile, the Utes went with their red-on-red ensemble. So it was clear from the start: both teams were all in.
So was the crowd, which jumped on the Utes during warm-ups and never let up. The Cougars didn't seem nearly so amped. Or maybe too amped. Still, you have to hand it to both teams — they know how to stage drama. It may not be artful or proficient, but they do manage to make it interesting.
Meanwhile, BYU had to settle for what-ifs. For instance, what if Adam Hine's 100-yard kick return hadn't been reversed on a penalty? And what if the play by Michael Alisa had been ruled a fumble recovery for a touchdown? What if they'd called a penalty on the game's final play?
Instead, the Utes stole away again, having defeated Weber State, Utah State and BYU this year. Considering the drama leading up to the game, both teams were surprisingly well behaved. Not much trash talking until late. A questionable moment came when Utah's Jason Whittingham came crashing into view at the end of a play, colliding with some BYU players.
But in the end, the Utes showed once again that they indeed know how to set their speed on automatic pilot. "A loss is a loss," said BYU defensive back Daniel Sorensen. It's a thought Mendenhall will be remembering for the next three years.