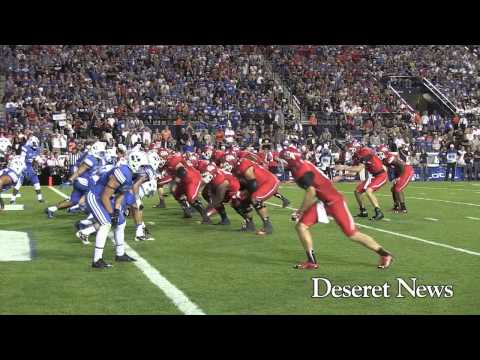 View 88 Items


PROVO — Kyle Van Noy will end his spectacular collegiate career without the one win he wanted most.
One of the most impressive defensive players to ever wear BYU blue said beating Utah in his senior season was extremely important to him.
"There's no lying about it. I am 0-3 against them, and I want to win," Van Noy said during the week leading up to Saturday's 20-13 Utah victory. "They don't like us, and we don't like them, and that's OK. It is going to be a bloodbath, and we are going to show up for it."
The BYU defense did show up, but in the end missed opportunities and mistakes cost the Cougars.
A missed field goal by Justin Sorensen, his first of the season, in the second quarter and a holding penalty that nullified a 103-yard kickoff return for a touchdown by Adam Hine were among the Cougar miscues.
"That would be one of the handful of plays that really change a game like this," BYU head coach Bronco Mendenhall said of the missed fied goal. He said the teams were evenly matched, so BYU needed to convert on those red zone opportunities.
"We gave up two big plays defensively that gave up field position," said Mendenhall.
His players said the loss hurt.
"A lot of guys are disappointed," said defensive back Daniel Sorensen. "The loss is upsetting. ...On defense, we had a couple of times where we could have created turnovers and we didn't. If we made one of two of those plays, we might have helped the offense out and given them good field position."
The loss may be a bitter disappointment, but it could be more costly than just listening to three years of Utah fans bragging. Sophomore running back Jamaal Williams went down injured with 7:58 left in the third quarter. He finished with just 52 yards of rushing.
"Any time Jamaal is off the field it affects the game," said Mendenhall. "Our concern right now is for his neck. Hopefully they get a good prognosis. I haven't heard anything since the took him to the hospital."
It was sophmore quarterback Taysom Hill who once again led the way on the ground as the sophomore quarterback finished with 130 yards rushing. He was not nearly as effective in the air, however, especially during the first three quarters. He finished 18 of 48 for 260 yards. Utah's defense managed to sack him five times, while BYU's defense only got to Travis Wilson once.
"I thought he gave us a chance right until the end," said Mendenhall. "That's all I can ask from any quarterback. He'll continue to learn and grow as well as our team, but I like him a lot."
The game didn't have its usual fireworks and was fairly bland compared to recent meetings. Officials said 63,470 people watched the final rivalry game until the 2016 season when the two teams will play at Rice-Eccles Stadium.
Tyler Beck, who stepped in for suspended linebacker Spencer Hadley, had 10 tackles, while Van Noy and Daniel Sorensen finished with eight tackles each.
"I think a lot of guys are disappointed in this," Sorensen said.
Twitter: adonsports
Email: adonaldson@deseretnews.com