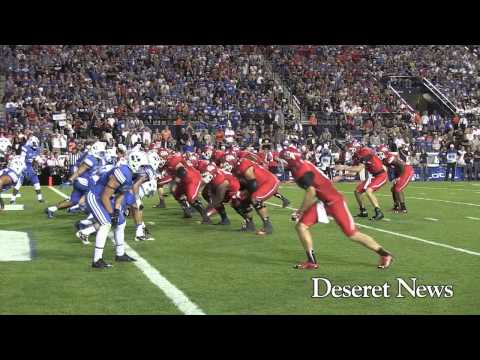 View 89 Items



PROVO — The BYU Cougars are officially and clearly owners of a four-year skid against Utah.
They are collared, leashed and locked up in a kennel owned by their rival. It's been a decade of Ute domination.
A chance to do something about it won't come until we have elections to pick a new U.S. president. Leases on most of our cars will have expired by then. The sophomore quarterbacks who played in Saturday night's game will have likely moved on to other things.
It's going to be a long time before BYU can do anything about the Utes. A very long time, indeed, after Utah's 20-13 victory Saturday at LaVell Edwards Stadium.
The Cougars fielded a defense, but the offense was touchdown-impaired.
All the fireworks Taysom Hill and Jamaal Williams set off against Texas?
Utah doused them good Saturday night with schemes, hustle and defensive players highly committed to the act of tackling.
Williams left the game in the third quarter on a stretcher.
Hill took off on nice sprints. He completed some passes, but they were mostly devoid of hurting Utah.
"He gave us a chance to win and that's all I could ask," said Bronco Mendenhall.
And BYU's offensive line?
You know, the one that resurrected itself after losing to Virginia by looking hearty and mean against the Longhorns? Utah squashed that euphoria early.
The Cougars outgained the Utes 365-348 total yards through three quarters. But Utah's yards had points behind the numbers and that was the difference.
Utah had better red zone plays and execution in scoring position.
Unlike most games in this rivalry, turnovers weren't a factor.
The Cougars held on to the ball. They just couldn't use it to score touchdowns.
It didn't help that Adam Hine's 103-yard kickoff return in the second quarter was called back due to a holding call just when the kid from St. George broke into the open. And things looked dire when Justin Sorensen, who was perfect in kicking field goals through two games, missed his first attempt from 34 yards in the second quarter.
The injury to Williams added to the snakebit Cougar squad.
We've seen Robert Anae's offense have success against the Utes in the John Beck and Max Hall eras. But the Cougar offense has struggled mightily against Kyle Whittingham most of this decade.
Anae's return with his "go fast, go hard" offense has been a novel idea. Against Texas it looked exciting, albeit one-dimensional with the run.
Against this old nemesis, the Cougars were in dire need of Hill throwing accurately, adding that weapon to that of his talented legs. It is tough for any BYU team to get after Utah when the pass is not effectively deployed in the arsenal.
Hill may fix this later this season, but in September tossing TD passes has not been a regular deed.
Hill had a career passing day against the Utes. His 260 yards passing surpassed his 235 yards against USU last year and was his best effort this season. But his 18 of 47 completions, or 38.3 percent accuracy, gave him a wobbly 78.8 QB rating.
Not the zip code Provo is used to.
For the game, BYU outgained Utah 443 to 402 total yards. But points, not yards count.
Both offenses faced tough defenses, but Utah's offense was more polished, featured more weapons, and had a more accurate passer in Travis Wilson.
BYU's most exciting play of the game came in the waning minutes when JD Falslev cut around Ute tacklers for a 58-yard punt return to Utah's 14.
But once again, the Cougar offense was impotent, electing to run Michael Alisa on a third-and-7, then Hill threw behind Eric Thornton at the goal line on fourth down.
It was typical of the night.
Typical of the past four years in a losing streak to the Utes.
Later, Hill used a Eric Roe taunting penalty to get the Cougars to Utah's 1 with 5:17 left in the game and the Cougars cut Utah's lead to 20-13 on an Alisa dive play.
It was for pride.
Hill had a chance to drive the Cougars for a game-tying score with 2:47 left, but the drive ended on a fourth-down pick. He got another chance with 32 seconds and the ball at midfield, but the Cougars couldn't come up with anything.
BYU has until 2016 to find an answer, an offense and the proper pieces that can slap back at the Utes.
Saturday, the Cougars didn't have it. Even retro uniforms couldn't do it. The marketing department isn't going to break this chain.
The Utes have a leash on the Cougars.
And Saturday, they took BYU for a walk.
Dick Harmon, Deseret News sports columnist, can be found on Twitter as Harmonwrites and can be contacted at dharmon@desnews.com.