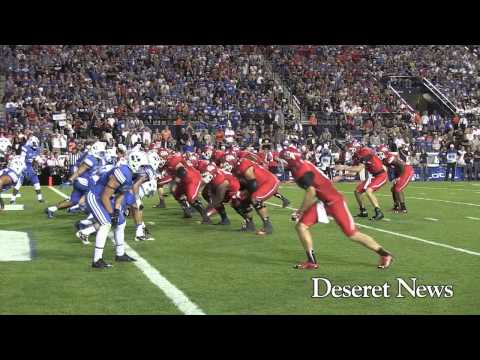 View 88 Items


PROVO — For the sixth time in the past 11 rivalry games, Utah never let BYU hold a lead. A strong start proved pivotal as the Utes topped the Cougars 20-13 in the final meeting between the teams until 2016. They enter the interruption of the series with four straight wins over their rivals.
Utah built a 13-0 advantage by piling up more passing and rushing yards than BYU in the first half. The Utes did most of their damage in the air. Quarterback Travis Wilson completed 14 of 20 passes for 185 yards, including a 1-yard scoring strike to Anthony Denham with 1:17 remaining in the second quarter. A 74-yard pass to Dres Anderson, who had five catches for 115 yards at the break, set up the touchdown.
Kicker Andy Phillips added the PAT, capping off a half that included field goals from 36 and 32 yards out by the freshman.
The first kick came in the first quarter and concluded a drive that featured a 65-yard run by Bubba Poole, who led all rushers with 71 yards over the first two quarters.
Although Utah topped BYU in passing (185-146) and rushing (101-71), the Utes had their shortcomings in the opening half. They were just 1 of 8 on third-down conversions. The Cougars had more first downs (11-9), but failed to get Jamaal Williams and Taysom Hill on track. The players, who ranked third and fifth in the nation in rushing, had a combined 57 yards at halftime.
BYU's offense was more productive in third quarter. The Cougars climbed back into contention when kicker Justin Sorensen closed the gap to 13-6 with a pair of field goals.
Utah, though, countered with a 2-yard touchdown pass from Wilson to Karl Williams early in the fourth to regain some breathing room. A defensive stand later in the quarter also helped to preserve the outcome. A loss on downs by BYU followed a 55-yard punt return by J.D. Falslev that put the Cougars 13 yards away from the goal line.
The stop came in handy because BYU scored a touchdown on its next possession. Fueled by an unsportsmanlike penalty on Eric Rowe on an incomplete pass on third down, the Cougars marched downfield and reached the end zone on a 1-yard run by Michael Alisa with 5:13 left to play.
Although BYU wound up getting the ball back after forcing Utah to punt, the Cougars were unable to score again. Michael Walker intercepted Hill on a fourth-and-13 situation from the Utah 38 with 1:37 remaining to thwart one threat.
The Utes punted again with 39 seconds to go and avoided trouble again when the Cougars threw four consecutive incompletions to close out the game.
Email: [email protected] - Twitter: @DirkFacer