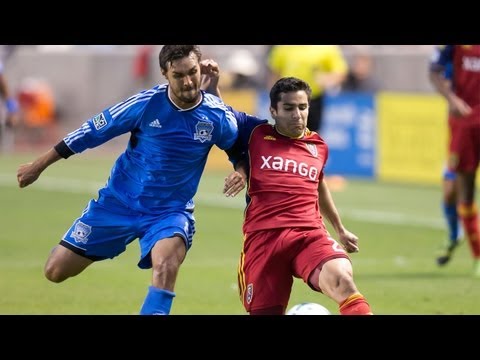 View 26 Items

There should be a concern. We're going to have to get together next week and get our minds right. We've all got to hold ourselves accountable for how we've played.

—Real Salt Lake defender Nat Borchers
SANDY — After what transpired around MLS this weekend, Real Salt Lake might need to start concerning itself more with finishing in the top three in the Western Conference and less with winning the Supporters' Shield.
That's how quickly things can change in the bunched-up Western Conference when you lose two in a row.
A week after being blanked in Seattle, Real Salt Lake lost again on Saturday night, falling to a motivated San Jose team 2-1 in front of a sell-out crowd at Rio Tinto Stadium, a result that dims the club's Supporters' Shield hopes.
"There should be a concern. We're going to have to get together next week and get our minds right. We've all got to hold ourselves accountable for how we've played," said defender Nat Borchers. "We've got great quality on this team and we have a great group of guys, we know that, but we've got to turn this thing around. Two games in a row, it's not us, it's not how we do things around here, so we're definitely going to have to get it right."
RSL lost on Saturday by conceding two goals to San Jose's Steven Lenhart just four minutes apart in the first half, both on situations the team planned for.
Those types of defensive miscues have been a huge concern lately, and coach Jason Kreis reiterated that his players continue to react to dangerous situations too slowly.
Surrendering the early goals were among many things RSL's Ned Grabavoy said went wrong in front of 20,504 fans on Saturday, the fourth largest crowd in Rio Tinto Stadium history.
"Everything tonight wasn't good. So it's not like we can sit there and say, 'well this was off, or this wasn't on, or we didn't do well at this' because individually and collectively every guy that came on the field or started on the field we all didn't do anything well. Defensively, offensively, our energy to start the game, all these things weren't good," said Grabavoy.
Despite the loss, RSL remained in second place in the Western Conference, but Los Angeles and Portland are in hot pursuit, each with games in hand. If Real Salt Lake doesn't get things sorted out quickly, it's in danger of dropping into the fourth or fifth seed and being forced to play the dreaded midweek No. 4 vs. 5 one-game playoff.
Kreis acknowledged after the match that RSL might need to scrap trying to win the Supporters' Shield and focus more on the U.S. Open Cup, simply making the playoffs and getting its swagger back in the meantime. He said he isn't throwing in the towel yet.
All three goals on Saturday occurred during a wild four-minute stretch in the first half.
RSL nemesis Lenhart struck first as he headed home a Cordell Cato cross in the 18th minute, putting the visitors ahead 1-0. Just over a minute later, however, Real Salt Lake equalized as an unmarked Javier Morales slipped in behind San Jose's defense to bang in a Kyle Beckerman corner kick.
As quickly as RSL leveled the proceedings, it conceded right back as Lenhart headed in his second goal in the 21st minute.
"Because of that sort of flip flop, I think now our guys are really hanging their heads, and that's not good enough. We're going to make mistakes, and some of those mistakes are going to mean we're going to get goals scored against us, but we need to stick together and have positive reactions," said Kreis.
The Quakes did a good job sitting on the lead throughout the rest of the half, with RSL unable to generate many scoring chances despite a 75 percent edge in possession.
In fact, most of Real Salt Lake's chances came via service into the box, but without injured Alvaro Saborio in the line-up, it rarely threatened as San Jose center backs Clarence Goodson and Victor Bernardez were usually there to clear things away.
San Jose nearly increased its lead to 3-1 early in the second half, but Nick Rimando came up huge to deny Chris Wondolowski on a point-blank header.
Other than that sequence, RSL dominated possession as San Jose willingly sat back and protected its lead, but there was very little attacking space to work in.
"We just weren't quite good enough in the attacking third of the field. There were a lot of players in the box, a lot of players around the box to deal with and move around, and we needed some special plays tonight and we didn't quite get them," said Kreis.