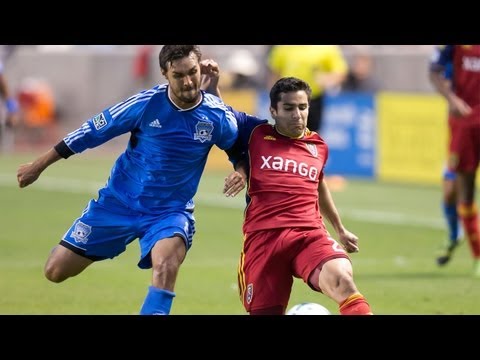 View 26 Items

SANDY — As discouraging as Saturday's 2-1 loss was for Real Salt Lake, it was consistent with how the team's been playing lately.
Over the past six matches dating back to the 4-2 loss at Los Angeles on Aug. 17, RSL has conceded a whopping 13 goals. Fortunately for coach Jason Kreis' team, it has scored 14 goals during that same stretch and won a few games, but it can't afford to keep leaking goals if it hopes to be a factor late in the season and the playoffs.
"It's definitely a concern. I don't know if it's one thing. Certainly we've talked a lot about set pieces and dealing with crosses, because we feel the majority of the time we're going to have the better of the possession, teams look to counter on us and look to whip balls in the box," said defender Chris Wingert.
Steven Lenhart scored both San Jose goals on Saturday, both with his head and both after losing his mark.
Defender Nat Borchers took full responsibility afterward.
"I hold my hand up for both of those goals. I was marking Lenhart and he just got inside of me both times, and a guy like that inside the box is going to bury his chances," said Borchers.
Lenhart's second goal — which came four minutes after his first — was on a set piece, which Real Salt Lake should've been ready for.
"We literally watched that in film four or five times. They've done that so many times this year … we know they like to set the ball down and hit that early free kick. It's these things we keep talking about that needed to get cleaned up," said midfielder Ned Grabavoy.
DIMMED STAR: Alvaro Saborio missed his second straight game on Saturday because of a calf strain picked up with the Costa Rican National Team earlier this month, continuing a trend of DNPs for the RSL striker.
Because of a variety of injuries and international duty, Saborio has appeared in just 13 of 30 regular season matches for Real Salt Lake this year. Incredibly though, he still leads the team in scoring with 10 goals.
RSL's attack has certainly missed his target presence the past two weeks, particularly against San Jose.
"When we have an opponent that sits that far back in there, we need somebody to be in the box to finish the goals," said Kreis. "I think we miss Sabo in matches like this, there's no doubt about it."
RECORD WILL NEED TO WAIT: Real Salt Lake's bid to become the first MLS team in the post-shootout era to reach 15 wins and 50 points in four consecutive seasons will have to wait a week after Saturday's loss. Its record now stands at 14-10-6 with 48 points.
Comment on this story
Los Angeles is poised to reach the 15-win, 50-point plateau for a fourth consecutive season as well, barring a collapse in the final month. The Galaxy were sitting on 44 points and 13 wins heading into the weekend.
EXTRA MOTIVATION: An illness to Luis Gil this week opened the door for Khari Stephenson to have a crack at his former team for a third time this season. This time around, however, wasn't nearly as successful for Stephenson.
Stephenson, who played at San Jose from 2010 to 2012, started the previous two matches against his former team this season, playing a large role each time in 2-0 and 3-0 shutouts. On Saturday, he never seemed to settle into the match.