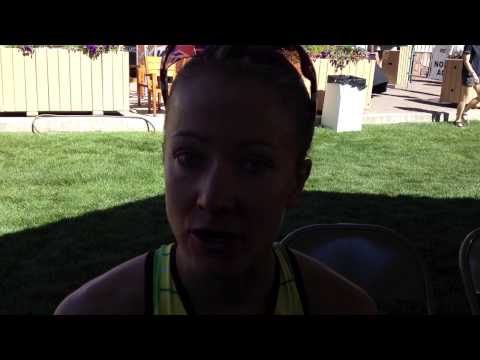 OGDEN — Known for her mountain biking dominance, Lesley Paterson watched competitors pass her and started to believe the horrible thoughts that ran through her mind.
"There are lots of good girls here, and when people start passing you at the beginning of a race, it's hard not to let that get into your head," said Paterson, who won her second straight XTERRA National Championship in Ogden despite battling a cold. "My husband is a sports psychologist, and he said, 'Any time a negative thought comes in your head, (picture) a big stop sign in your head.' I was shouting that at myself, "Stop! Stop! Stop!' "
Then she glanced down and touched the words written on her forearms in black marker — "Joy" on her left arm and "fight" on her right forearm.
"I always find this race really hard because it's the first race in my block," said Paterson, who finished 43 seconds ahead of second-place finisher and 2012 Olympian Barbara Riveros, Chile, with a time of 2:53.21. Part of the battle was the cold she was dealing with, but part of it was the depth of the field.
"It was a tight race, and there were a lot of good girls here," she said. "It took me a good half the race just to get into it."
She struggled to switch gears from the swim to the bike, including taking a spill on her bike just as she entered Wheeler's Canyon.
"It really is a lung buster, straight out of the gate," she said. "It's a relief (to win). I'm totally going to chill out and eat chocolate tonight."
While Paterson repeated on the women's side, rookie Leonardo Chacon, Costa Rica, won the men's race with a time of 2:32.31. "This is my third XTERRA of my life," he said laughing. "I think XTERRA has that thing that it is more individual. … I love that nobody can draft you in the bike. It's just your strength against the strength of others, and I love that. You learn what you have, and you learn what they have."
Chacon's strength is swimming, but he held his ground on the mountain bike section and said when he entered transition close to the leaders, who were Conrad Stoltz (ending up fourth at 2:33.26) and Josiah Middaugh (who finished second 2:33.26), as well as third-place Ruben Ruzafa, Spain, (2:33.55) he was confident he could contend.
"The most important thing when you're racing against these guys in XTERRA, you've got to be stronger in the discipline where you are strong," he said. "It's your chance. When I got to transition two with them, I knew I had to control first the run, then the final attack. It was incredible for me."
In addition to professional triathletes from around the world, hundreds of amateurs from around the world competed in the event as well.
Matthew Balzer from Reno, Nev., was the top overall amateur with a time of 2:49:50. He finished 12th overall, topped only by 11 established professionals.
"Ecstatic," said Balzer, 32. "It's been a goal for the last two years. I had to deal with some (foot) injuries last year, so I really wanted to come out strong this year." Among those amateurs was Salt Lake lawyer Meghan Sheridan, 34. She spent half the week back East at a wedding and then worked a vicious schedule before Saturday's race. She's new to the sport, but already among the best amateurs on the tour.
A professional mountain bike racer, she started competing in XTERRAs in 2010 at the urging of a friend, who races as an amateur in the 60-year-old category. She finished second in the 30-34 age division on Saturday.
"I didn't know how to swim," she said, after calling Saturday's swim "miserable." "I rented a rafting wet suit in 2010 and I was last out of the water. The next year I was in the National Championship. Yes, I still hate swimming. It's scary. There's 300 people going out together. … Thank goodness my biking is awesome." The 2012 graduate of the University of Utah's law school said there really isn't any valid excuse for not getting out and enjoying Utah's scenic outdoor opportunities.
"I killed everyone's excuses for not exercising," she said laughing. "I had never even done a road triathlon. Here I am; it's part of my life now whether I'm in the national championships or racing regionally for fun. It's a wonderful experience; everyone should do it at any level. … Get on your bikes, people!"
The XTERRA trail running national championship is Sunday morning at Snowbasin. Locals can sign up for the 21K pro course or a 10K or 5K course from 7 a.m. until 8 a.m. Sunday morning.
Twitter: adonsports
Email: [email protected]