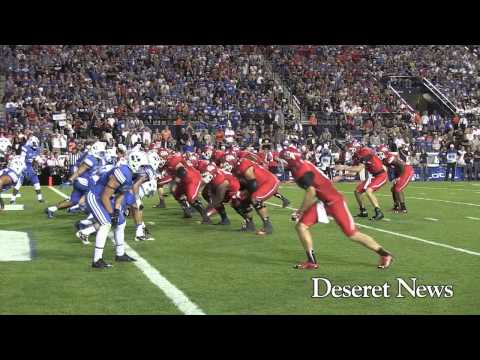 View 87 Items

I'm opposed to the game stopping for any reason. You schedule around the (BYU-Utah) game. That goes in first, and every other game goes in after.

—BYU coach Bronco Mendenhall
PROVO — If BYU coach Bronco Mendenhall had his way, the BYU-Utah rivalry would go on uninterrupted.
Instead, the Cougars and Utes will go two seasons without facing each other after Saturday's battle at LaVell Edwards Stadium.
BYU and Utah won't play again until Sept. 10, 2016, at Rice-Eccles Stadium.
"I'm opposed to the game stopping for any reason," Mendenhall said this week. "You schedule around the (BYU-Utah) game. That goes in first, and every other game goes in after."
BYU offensive coordinator Robert Anae, who played for the Cougars in the 1980s, agrees.
"It's a game worth playing," Anae said. "It's a game worth watching. It's a game the state needs. Boy, I think it's valuable to have an in-state rivalry."
UNITED EFFORT: Prior to the game, volunteers sold rubber bracelets at a gas station across the street from the stadium to raise funds for the Gaius Vaenuku Leadership Scholarship. Vaenuku was an incoming freshman for Utah who was killed in an automobile accident just prior to the start of preseason camp.
"A lot of people have been affected by the loss of Gaius. He affected a lot of people during his short time here," said Alema Te'o of All Poly Sports, which is administering the scholarship. "Fans from both schools pretty much contacted me and asked if there was anything we could do to create at least some awareness or some support."
Te'o added that sales of the $3 bracelets was going well.
"The BYU and Utah fans have been awesome. This is just the beginning," he said. "We'll try to get better as we go, but again we're grateful for everyone who has come out to support the cause, and we look forward to distributing this scholarship."
11
comments on this story
NINE LIVES: In the long history of the rivalry, Saturday's game marked only the third time the two schools have had the same coach for at least nine consecutive games.
There was Utah's Ike Armstrong and BYU's G. Ott Romney (1928-1936) and Utah's Ron McBride and BYU's LaVell Edwards (1990-2000). Still, during Edwards' 29-year tenure, the Utes went through six different coaches.
SCOUT-A-RAMA: Professional scouts from the NFL's Atlanta Falcons, Baltimore Ravens, Houston Texans, New England Patriots, New York Giants, Philadelphia Eagles, St. Louis Rams and CFL's British Columbia Lions attended the game.
Email: jeffC@desnews.com, dirk@desnews.com
Twitter: @AJeffreyCall, @DirkFacer