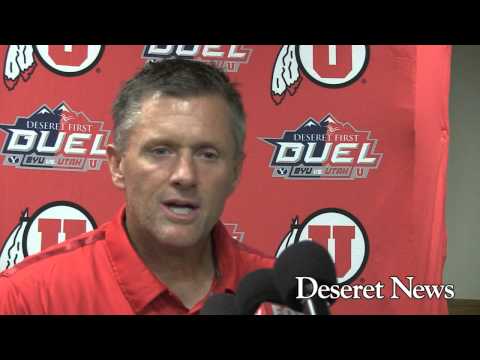 View 89 Items



PROVO — Utah earned its fourth consecutive victory over BYU late Saturday night, and the Utes will be able to savor this one for a long, long time.
For the Cougars, it's at least three more years of rivalry misery, as the two teams won't meet again until 2016.
Quarterback Travis Wilson completed 24 of 34 passes for 273 yards and two touchdowns, and the U. defense held BYU to just one TD as Utah defeated BYU, 20-13, in front of a sellout crowd of 63,470 at LaVell Edwards Stadium.
"The win is huge," said Utah coach Kyle Whittingham. "Our senior class now has never lost to these guys. Four straight years we've won, which means our junior class and sophomore class will never lose to them either because of the two-year break."
"It feels amazing," Wilson said. "I don't think I've eve had a win like this. It truly feels amazing."
BYU quarterback Taysom Hill completed 18 of 48 passes for 260 yards and rushed for 99 yards.
In recent games against Utah, turnovers had doomed BYU. This time, the Cougars had just one turnover, and that came on an interception by Hill on a fourth-and-13 play in Utah territory with 1:37 remaining in the game.
Before that, though, untimely penalties — including a holding call that nullified a kickoff return for a touchdown — haunted BYU all night.
Utah made fewer mistakes (zero turnovers), and made more plays, and left Provo with its ninth win over BYU in the last 12 meetings.
"I am very proud of our football team and coaches," said Whittingham. "Just a great job by our defensive staff to slow down their offense. Offensively, just another good football game and taking care of the football."
"BYU is definitely the toughest defense we played so far," Wilson said. "It was really important we had a good day. I didn't have any turnovers and we made some really good plays. I just wanted to make sure to handle the ball well and make smart decisions."
The Utes improved to 3-1 on the season while the Cougars fell to 1-2.
"I'm looking forward to working with my team again on Monday," BYU coach Bronco Mendenhall said. "Certainly we're disappointed. I'm anxious to see the resiliency and the resolve to get back to work."
Wide receiver Dres Anderson caught eight passes for 141 yards and running back James Poole rushed for 96 yards on 18 carries. Anderson had a 74-yard reception, and Poole recorded a 65-yard run that led to Utah scores.
Yet the Cougars outgained the Utes in total yardage, 443-402.
In the first quarter, BYU and Utah traded punts three times as the defenses controlled the game.
Late in the period, running back James Poole erupted for a 65-yard run to give the Utes their first scoring threat. Utah capitalized, scoring on a 36-yard field goal by Andy Phillips.
On the ensuing kickoff, BYU's Adam Hine electrified the crowd with a 102-yard kickoff return for a touchdown, but a holding call negated the score.
The Cougars took over at their own 15-yard line and were forced to punt again.
A couple of series later, Utah's Geoffrey Norwood stepped up to field a Scott Arellano punt. Norwood attempted to catch it before pulling his hands away at the last moment. The ball bounced into the hands of BYU's Michael Alisa. The officials, however, ruled that Norwood did not touch the ball and the Utes retained possession.
Utah ended up driving deep into BYU territory before settling for a 32-yard field goal by Phillips to make it 6-0 for the Utes.
The Cougars responded with their best drive of the first half — highlighted by a 32-yard catch by Cody Hoffman. BYU marched to the Utah 16-yard line, where Justin Sorensen's 34-yard field goal attempt sailed wide left.
Late in the first half, the Utes struck again thanks to a 74-yard catch-and-run by Anderson, who broke a couple of tackles and weaved his way down to the Utah 1-yard line. Two plays later, Wilson connected with Anthony Denham for a touchdown with 1:17 remaining.
At halftime, Utah led 13-0.
BYU continued making miscues in the second half. On its first drive, a 50-yard pass play was nullified by a holding call. Still, the Cougars recovered as Hill picked up 41 yards on a run, setting up a 32-yard field goal by Sorensen to cut the deficit to 13-3.
The next time BYU got the ball, it again moved the ball into Utah territory. On fourth-and-1 with 7:58 remaining in the third quarter, running back Jamaal Williams plowed into the line and his helmet was driven into the ground.
The crowd of more than 63,000 went silent and players from both BYU and Utah took a knee on the field as they watched doctors and trainers attend to Williams. Williams was placed on a backboard, carted off the field, and transported to the hospital.
ESPN reported that Williams' mother said her son had movement in his hands, legs and feet.
"Our concern right now is for his neck," Mendenhall said after the game. "Hopefully, they get a good prognosis. I havne't heard anything since they took him to the hospital."
The Cougars ended up settling for a 31-yard field goal by Sorensen as they made the score 13-6.
Later, BYU punted on fourth-and-1 near midfield, and Utah took over on its own 14-yard line. The Utes drove 79 yards on 12 plays, capped by a 2-yard touchdown pass from Wilson to Karl Williams. A key play on that drive was a pass interference penalty on BYU inside the red zone.
A 58-yard punt return by Falslev with 9:44 remaining gave BYU the ball at the Utah 13. But that drive stalled again as Hill's pass into the end zone on fourth-and-4 fell incomplete.
The Cougars finally found the end zone with 5:13 remaining in the game as Alisa scored on a 1-yard dive to make it 20-13.
BYU had another opportunity to potentially tie the game with less than two minutes remaining, but Michael Walker picked off Hill on fourth-and-13.
The Cougars had one last chance to send the game into overtime, but Hill's final pass fell incomplete as time expired.
"I thought (Hill) gave us a chance right until the end," Mendenhall said. "That's all I can ask from any quarterback. He'll continue to learn and grow as well as our team, but I like him a lot."
BYU hosts Middle Tennessee on Friday while Utah has a bye.