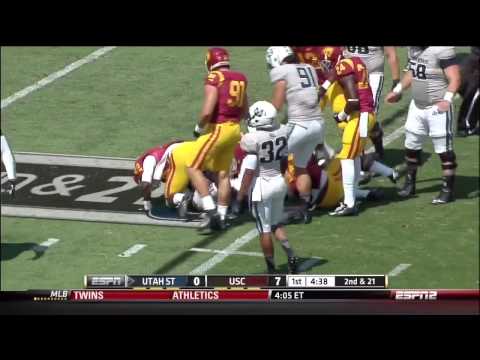 View 37 Items

It hurts coming in here time and time again these big games it 's tough for us. We didn't play enough to win, they made more plays than we did, is what it came down to.

—USU linebacker Jake Doughty
LOS ANGELES — For the fifth time in five years, the Utah State football team came up just short against a big-time opponent on the road.
This time, it was a 17-14 loss to USC, which had beaten the Aggies by an average of 46 points in four previous meetings, in front of 63,482 at the L.A. Memorial Coliseum Saturday afternoon.
However, this was nothing like last year's two-point loss at Wisconsin on a last-minute missed field goal or a four-point loss to Auburn two years ago when the Tigers scored two late touchdowns to win.
The Aggies never led and couldn't get into scoring position on their final five possessions of the game, never even crossing midfield against a tough Trojan defense. The Aggies mostly felt frustrated that their dynamic offense could never get on track against the Trojans.
"An old-fashioned gladiator slugout is what it was,'' said USU coach Matt Wells. "It was a hard-fought game, exactly what we thought it would be. It came down to the fourth quarter and was an extremely physical game.''
"It hurts coming in here time and time again; these big games it's tough for us,'' said USU linebacker Jake Doughty. "We didn't play well enough to win. They made more plays than we did is what it came down to.''
Utah State actually outgained the Trojans with 285 yards of total offense to 282, and the Aggie defense played well enough to win, consistently thwarting the Trojan offense. But in the end it came down to a special teams blunder — a shanked punt that gave the Trojans prime field position for the what turned out to be the winning field goal.
That came with 13:35 left in the game as Aggie punter Jaron Bentrude kicked it off the side of his foot out of bounds for an official 12-yard punt, giving the Trojans great field position at the USU 24. Although the Trojans couldn't find the end zone, they settled for a 25-yard field goal by Andre Heidari to take a three-point lead.
From there, the Aggies had three more possessions, always from deep in their own territory, but the furthest they could make it was their own 46-yard line, where Chuckie Keeton ended up on a fourth-down play, 4 yards short of a first down.
"It gets frustrating, but we created that ourselves,'' said Wells of the Aggies starting in a hole all night. "We have every opportunity as an offense to flip the field, but we failed to do that.''
As for the punting error, Wells said, "I wish we would have punted a little better. You can't every let points escape you in a close game.''
The Trojans got on the board first on a 1-yard run by Tre Madden late in the first quarter. A 55-yard run by Joey DeMartino set up the Aggies' first score as he got loose around the right end before being pulled down on the 8-yard line. On third down, Keeton rifled a pass to Brian Swindall for the touchdown.
Earlier, the Aggies had a chance to score in the first quarter, but Nick Diaz hit the right upright with his 37-yard try.
In the second quarter, USC quarterback Cody Kessler started finding his receivers and hit Xavier Grimble, who was left wide open in the middle of the field for a 30-yard touchdown pass, making it 14-7 with 5:13 left.
The Aggies put together a nice drive in the third quarter, moving 72 yards in nine plays to tie the score at 14 as Keeton hit Travis Reynolds with a 10-yard touchdown pass.
20
comments on this story
Momentum seemed to be on the Aggies' side, but on their next two possessions, they actually went backward rather than forward, losing yardage both times.
Then came the botched punt and USC field goal. After that, it was more frustration for the Aggie offense.
Although frustrated and unhappy with the loss, Wells looked at the bright side afterward.
"It was a big stage for us to come in and perform on and with all the history (and) tradition here,'' he said. "But, you know what, I'm proud of my guys. We take nothing but confidence out of this.''