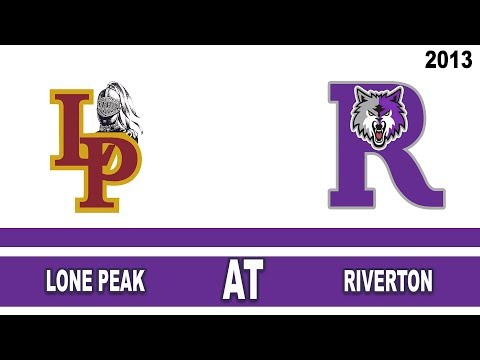 View 3 Items

Those two possessions really were key for us. I think those long drives really took a lot out of them. It wasn't my play-calling, that's for sure. It was just the kids really playing well and sustaining long drives.

—Mike Miller, Riverton head coach
RIVERTON — Riverton rebounded nicely from last week's devastating loss to American Fork by defeating visiting Lone Peak, 31-14, on Friday night.
The win was impressive, convincing and — most of all — necessary.
"You don't want to go down 0-2 in region, so this was a nice win," said Riverton coach Mike Miller. "Lone Peak — they're a real good team, so this was a big win for us on homecoming night. It's nice to get out of here with the win."
The victory was defined by the Silverwolves' first two possessions of the second half. The first was an 18-play, 72-yard drive that consumed seven minutes off the clock. The result was a Dillon Underwood 10-yard touchdown to give Riverton a 17-7 lead.
Following a three-and-out from Lone Peak, Riverton again mounted a seven-minute possession, this time covering 92 yards in 15 plays. At the end of it, Paden Cayias capped off the drive with a 3-yard touchdown run to put his team up 24-7 with just 6:59 remaining.
"Those two possessions really were key for us," Miller said. "I think those long drives really took a lot out of them. It wasn't my play-calling, that's for sure. It was just the kids really playing well and sustaining long drives."
Riverton's defense contributed mightily from the first possession of the game until the last. It set the tone early with three takeaways in the first quarter while limiting prolific Lone Peak quarterback Baron Gajkowski to minimal yardage on the night.
Gajkowski battled through injuries for most of the evening, but did contribute a 3-yard touchdown run in the first half to cut Riverton's lead to 10-7 at the break.
Riverton defensive lineman McKay Clarke wrapped up the game, picking off a Gajkowski pass with just 1:55 remaining. Cayias provided his third touchdown run from 3 yards for the game's final points.
Comment on this story
"Our defense played great and that quarterback — he's not easy to defend and he's a real nice player, but we did a good job of it tonight," Miller said. "(Clarke) usually doesn't play a lot of defense for us, but he got in there and made a heck of a play. I'm proud of his effort and the effort of all our guys tonight."
With the win, Riverton improves to 4-1 overall and 1-1 in Region 4. It will travel to face Pleasant Grove next Friday. Lone Peak drops to 2-3 overall and 0-2 in Region 4. It will take on American Fork at home next Friday.
Email: bgurney@desnews.com
Twitter: @BrandonCGurney