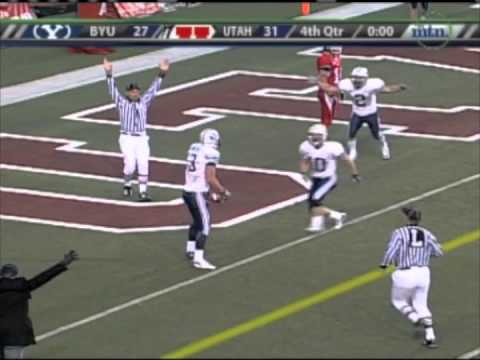 View 7 Items

When I first caught it I was excited, but I didn't realize how much it meant. People love it. It definitely got bigger and bigger.

—Jonny Harline, on his game-winning catch against Utah in 2006
SALT LAKE CITY — If it comes down to the final play, as usual, and BYU has the ball, the Utes would be wise in Saturday's game to keep this in mind: Jonny Harline will again be open.
Eligible, no.
But it's the thought that counts.
BYU officials contacted Harline this week and offered a sideline pass. The man in the most popular play in recent Cougar history will be sending his best karma from close range. How better to conjure Beck-to Harline than to put him on the sideline?
Heaven knows the Cougars could use it after three straight losses to the Utes.
In a BYUtv poll, the last-second touchdown from John Beck to Harline in 2006 drew more votes than even the more difficult — and arguably more significant —- pass from Jim McMahon to Clay Brown in the 1980 Holiday Bowl.
"When I first caught it I was excited, but I didn't realize how much it meant," Harline said on Tuesday. "People love it. It definitely got bigger and bigger."
Scarcely a day passes that he isn't asked about the catch, unless he holes up in his office. Two Saturdays ago his 4-year-old daughter was watching the Texas-BYU countdown show with him. For the first time, she made a connection.
"She heard them say my name and she starts putting it together," Harline said. "She's like, 'You're on TV!'"
Some things have changed since that 11-second play in which Beck found Harline loitering in the Rice-Eccles end zone. The Cougars have won just two of six ensuing games with the Utes. Utah moved to the Pac-12, BYU to independence. The annual game stopped being annual when a 2-year hiatus was announced.
Meanwhile, Harline went on to spend a season in the NFL, making stops in Indianapolis, Cleveland and New York. He tore his Achilles shortly after that season. Though he says he recovered fully, teams saw it differently and none signed him to a contract.
He took jobs in Internet marketing sales and educational software. Also, he played in the band Perfect Disorder — which accurately describes the scene after he made his famous catch. BYU fans raced past security, pounding the stunned Harline on the back after he was mobbed by teammates.
"I got dog-piled and John got lifted up on their shoulders," Beck said last winter, "so I got the bad end of that."
It wasn't just the significance or timing of the play, but the length. Nations have been overthrown in less time. Beck drifted left, then scrambled right while Harline went wide left. The pass floated and time stood still. So did Harline. To his good fortune, they could have fit the marching band between him and the nearest Ute.
"Fans tell me how excited they were, where they were, what they were doing," he said. "They say they put holes in the ceiling jumping up, scared babies awake, scared their spouses into thinking the house was falling down."
Harline has seen the replay so often on highlight shows that he has difficulty separating what he saw on the field from what he's watched on TV.
"I try to remember what was going through my head, and the ball coming up, and I had to come in fast at the end, and the ball was in the air, and I'm looking it into my hands," he said. "It's almost like I'm watching someone else."
Harline owns an insurance agency in Utah County, with clients on both sides of the football aisle. He says his Ute friends are surprisingly gracious about that game.
"They're cool about it but they'll say, 'It was the worst day of my life.' I have to admit I get a little joy out of those ones," he said.
Harline still strongly advocates the teams play annually, though he considers it "a little weird" that it's staged in September. To him, that seems out of position. But unlike the game date, Harline will once again be exactly where he should be on Saturday.
Email: rock@desnews.com; Twitter: @therockmonster; Blog: Rockmonster Unplugged