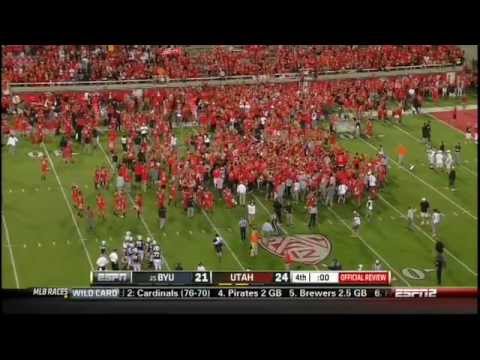 View 2 Items

Editor's note: This is part two of a three-part series about the FBS matchups of the 2013 Beehive State college football season. Part one examined Utah vs. Utah State.
The BYU-Utah game, a matchup considered by some to be an underrated rivalry, has featured plenty of wild contests over the years, but the 2012 edition might have been the craziest yet.
The Utes just came off a loss to the Aggies in Logan, and the Cougars came to Rice-Eccles ranked inside the top 25. The highly vaunted Cougar defense was expected to keep the Utes in check, but Utah decided to fight fire with fire.
The Utes jumped out to a commanding 24-7 lead, which included a touchdown off a bad snap to Riley Nelson. But once the fourth quarter rolled around, the Cougars fought back viciously to cut the score deficit to three.
With mere seconds left on the clock during BYU's final drive, the Utes blitzed Nelson, forcing him to throw the ball away. Many assumed the game was over and the Utes had won. The ecstatic crowd proceeded to rush the field. The officials then ruled one second was left on the game clock — enough time for a BYU field goal.
11
comments on this story
The kick was blocked. The student body rushed the field again. Flag on the field, unsportsmanlike conduct on Utah because of interfering fans. After the fans cleared off the field again, BYU's field goal unit moved forward 15 yards. Sorensen's kick went up …
Boink! The crowd rushed the field for a THIRD time. Utes won in unbelievable fashion.
Strangely enough, both the Utes and the Cougars struggled repeatedly through the rest of the season, with both schools finishing well below expectations.
This year's kickoff to the big rivalry is only a few days away, so let's break down what we will see on the field and what we can expect.
Sam McConkie is a technical and professional writing graduate from Utah State University. EMAIL: samus_4@hotmail.com