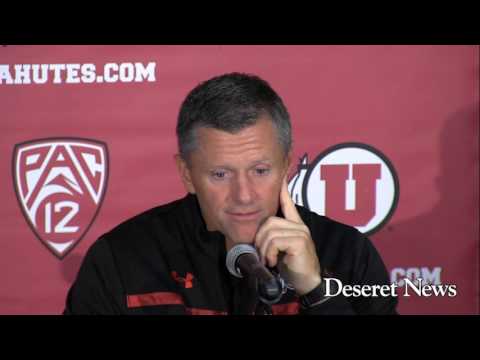 View 61 Items



SALT LAKE CITY — Saturday night's Pac-12 opener between Utah and Oregon State turned out to be a tale of two quarterbacks.
Both Utah's Travis Wilson and Oregon State's Sean Mannion played well enough to win, but in the end it was Mannion who walked off the Rice-Eccles Stadium smiling as the Beavers won 51-48 in overtime.
Mannion, who had struggled in a 19-point loss to Utah as a freshman two years ago, shredded the Utah defense with 27 of 44 completions for 443 yards and five touchdowns. His final pass, a 6-yarder to Brandin Cooks, was the game-winner in overtime.
The junior led the Beavers on an eight-play 79-yard drive to put OSU ahead 45-38 with 2:29 left before the Utes tied it with 21 seconds left. Then in overtime, he completed all three of his passes to give the Beavers the win.
Meanwhile, Wilson completed 19 of 33 passes for 279 yards and two scores and also ran for 147 yards and three touchdowns.
But three bad passes by the sophomore quarterback in the second half will haunt him as the interceptions ultimately proved to be the Utes' undoing in the tough loss.
Early in the second half, Wilson missed his receiver over the middle and OSU cornerback Sean Martin stepped in front and romped 27 yards to the end zone to put the Beavers up by 17.
Then after Wilson had led the Utes to two straight touchdowns and had moved the Utes into OSU territory, he missed Dres Anderson and Steven Nelson intercepted the pass at the OSU 45. Then on the very next play, Mannion hit Brandin Cooks on a short pass that turned into a 55-yard touchdown.
That made a 10-point deficit and the Utes still had hope and cut the lead to three early in the fourth quarter. Then after the Utes held the Beavers to a field goal and trailed by six, Wilson was intercepted again by Nelson as he outmaneuvered Anderson for the ball at the Utah 45-yard line.
Wilson came back to lead the Utes to the tying touchdown, running around the right end and diving in the end zone for a nine-yard touchdown run. However in overtime, the Ute offense only picked up two yards on pair of James Poole runs and then Wilson's pass to Anderson fell incomplete as the Utes had to settle for an Andy Phillips' field goal.