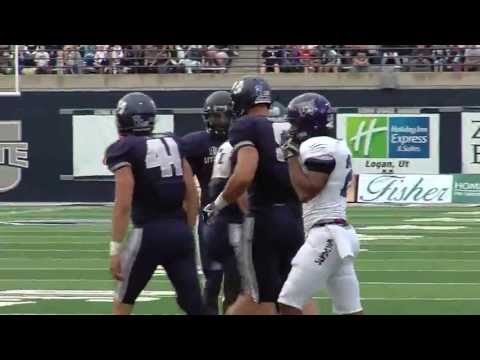 View 26 Items

It was a total team effort and a total team victory. We had a great week of practice and I thought we played well tonight.

—Matt Wells, USU head football
LOGAN — All week long, Utah State head coach Matt Wells talked about focusing internally and making sure his guys played to the best of their abilities. On Saturday night against Weber State, he got as close to a perfect game as possible.
The Aggies steamrolled the overmatched Wildcats 70-6 for a homecoming victory in front of a sellout crowd of 25,513 at Romney Stadium.
The final margin of victory was the sixth-largest in Utah State history as well as the sixth-most points scored in school history.
"It was a total team effort and a total team victory," Wells said. "We had a great week of practice and I thought we played well tonight."
Both sides of the ball were firing on all cylinders early and often for USU. The Utah State defense held Weber State without a first down on its first seven drives, while the Aggie offense turned all seven of those stops into touchdowns. Utah State led 49-0 at halftime in a performance that was seemingly as flawless as Wells could have asked for.
"It was pretty clean. I'll find something tomorrow," Wells said when asked about any possible mistakes.
Quarterback Chuckie Keeton tied his own school record with five touchdown tosses and finished with 249 passing yards despite not taking a snap in the second half. The junior hit tight end D.J. Tialavea (twice), Travis Reynolds, Ronald Butler and linebacker Kyler Fackrell for his five scores.
Fackrell, a wide receiver in high school, had been used as a decoy and blocker in goal-line packages during USU's first two games, but was able to come down with a fade route to score on his first career reception.
"Biggest celebration I had," Keeton said of hitting his new tight end for a score. "It's special to get him out there. He's a kid we are happy to have because he's such a great athlete."
With the heavy lifting already done, Wells opted to get his second and third units some reps in the second half.
But not much changed.
The Aggies had three scoring drives on just four total plays in a little more than three minutes of game time early in the third quarter. The scores came courtesy of a 60-yard Joey DeMartino run, a 56-yard touchdown pass from Craig Harrison to Keegan Andersen, and a 2-yard Robert Marshall plunge following a fumbled kickoff.
DeMartino finished with a career game on the ground. The senior ran the ball just eight times, but produced 105 yards and three scores — both career highs.
"It's pretty easy. All the credit goes to the O-line and the perimeter blocking from the tight ends and wide receivers. They open up the holes and as a running back I just run through them," DeMartino said. "It wasn't much I did."
Only a Weber State fumble recovery for a touchdown with under a minute to go kept the Utah State defense from posting its first shutout since October 2004. Overall, the Aggie defense held Weber State to just 138 yards on 56 plays, including just 34 net passing yards. The total defense was the Aggies' best effort since allowing just 83 total yards to UNLV in 1990.
The Aggies now turn their attention to USC. Utah State will be looking to make a name for itself on a national stage during a showdown with the Trojans at the L.A. Memorial Coliseum Saturday afternoon.
Kraig Williams is a 2010 Utah State University graduate and regular Deseret News sports blogger. He can be followed on Twitter @DesNewsKraig.