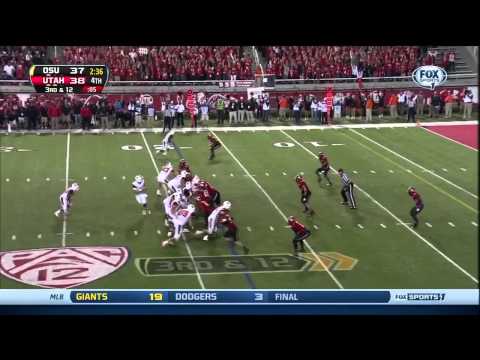 View 7 Items


There's no sense whining about (late nights) because that's the way the world is right now.

—Kyle Whittingham
SALT LAKE CITY — Late-night football is becoming a way of life for the Utah Utes. Saturday's game against Oregon State marked the first of three consecutive starts at 8 p.m. or later. They'll face BYU this Saturday at 8:15 p.m., and then host UCLA on Thursday, Oct. 3 at 8 p.m.
With game times pending on the seven games that follow, more late kickoffs could follow.
"We're semi-used to it. It's not the first year it's happened and it's certainly not going to be the last year that we've got a bunch of 8 o'clock games," said Utah coach Kyle Whittingham. "But we've got a format that we use on gameday that breaks up the day a little bit for the players and keeps them moving and keeps them focused."
However, Whittingham admits that if they had their druthers a noon or 1 p.m. kickoff would be preferable.
"But that's a rarity anymore," he said.
Utah didn't have any games that started at 8 p.m. or later in its inaugural season in the Pac-12. That changed last season, though, as the Utes wound up with five (and nearly six if a 7:45 p.m. start with California is added to the mix).
Since the start time affects both teams, Whittingham doesn't see it as an advantage or disadvantage.
"So you don't worry about it. What you do is just do your best to keep the players in the right frame of mind," he said, while noting that weekend waits aren't as bad as others. "It's not as bad on Saturday as when you play a Thursday night game because you've got games to watch all day. So it keeps their attention and you're watching football, so that makes it go by much quicker."
Utah athletics director Chris Hill called it a double-edged sword with television. The 7 p.m. starts on the West Coast, after all, aren't bad for recruiting. Hill acknowledged, though, that late games aren't always as ideal for local fans as afternoon kickoffs.
"There's no sense whining about it," he said, "because that's the way the world is right now."
The Utes went 1-4 in games that started at 8 p.m. or later last season.
HONORING A FRIEND: Utah quarterback Travis Wilson paid tribute to his best friend and UCLA wide receiver Nick Pasquale, who died last weekend, by writing "Rest in Peace 36" on his towel. He also wore a decal on his helmet with Pasquale's initials on it. Wilson's childhood pal was hit by a car while walking in their hometown of San Clemente, Calif. Wilson is returning home to attend the funeral Sunday.
ON THE MEND: Junior wide receiver Kenneth Scott, who suffered a season-ending lower leg injury early in the season opener against Utah State, was in good spirits before Utah's homecoming game.
Scott wanted fans to know that he was going to be OK.
"I'm going to take this as a game and get all my mental reps and stuff like that," he said. "So everything is going to be all right."
As far as rehabbing the injury, Scott noted that he'll start doing so late next month.
"I heal quickly," Scott said. "So I'm not worried about the timetable because I'm going to be back faster than what the doctor knows anyway."
5
comments on this story
EXTRA POINTS: Utah had six players on official recruiting visits, including a trio from Booker T. Washington High School in Miami — cornerback Nigel Bethel II (5-8, 168), wide receiver Deltron Hopkins (5-8, 160) and wide receiver Lamar Parker (5-8, 170). Two others with Florida connections were also at the game: cornerback Juwan Dowels (5-11, 160) of American Heritage High School in Plantation, Fla., and wide receiver Branden Snell (6-1, 190), a former Miami prep star out of Garden City Community College in Kansas. The other recruit making a visit was wide receiver Jeff Farrar (6-1, 193) from Upland, Calif. ... A scout from the Jacksonville Jaguars was in attendance. ... The Utes sported a new look, adding black facemasks to their red helmets, red jerseys and black pants.
Utah notebook: Late night becoming the norm
Homecoming "Ute Walk" prior to Saturday's game against Oregon State.
Email: dirk@desnews.com
Twitter: @DirkFacer