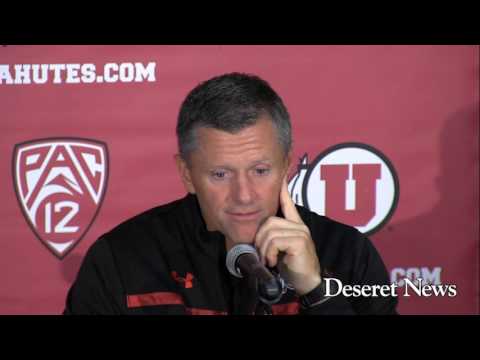 View 61 Items



That was a great college football game. It is unfortunate somebody had to lose, especially that it had to be us. I am proud of my kids. They were warriors tonight and hung in there for 60 minutes. We just came up one play short.

—Kyle Whittingham, Utah football head coach
SALT LAKE CITY — Utah quarterback Travis Wilson has had more than his share of ups and downs over the past week, beginning with the death of his best friend last Sunday and ending with the Utes' 51-48 overtime loss to Oregon State at Rice-Eccles Stadium.
Although Saturday's setback included three interceptions and a rally from 17 points down, it also included three rushing touchdowns and a pair of scoring strikes for the sophomore.
More importantly, Wilson can head to Sunday's funeral for UCLA receiver Nick Pasquale on the heels of a valiant effort. He threw for 279 yards and rushed for 142 more in the wild affair.
Pasquale was killed last weekend when he was hit by a car while walking in their hometown of San Clemente, Calif. The players have been best friends since childhood.
"I just tried to make plays, tried to make up for those turnovers I had, tried to make this game as close as it could be, but I just fell a little short," Wilson said. "... I think we never gave up on offense definitely. We kept on striving to get points on the board. It just didn't turn out how we wanted it to be."
Oregon State prevailed in the Pac-12 opener for both teams when quarterback Sean Mannion connected on a 6-yard touchdown pass to Brandin Cooks in overtime — just before midnight. Utah had opened the extra session with a 41-yard field goal by Andy Phillips.
Any momentum the Utes hoped to carry over from season-opening wins over Utah State and Weber State failed to materialize early on against Oregon State. Simply put, they lacked the current of a lazy river while falling behind 13-0 early in the second quarter.
At that time, the Beavers had built a dam so strong that the Utes barely penetrated it. When kicker Trevor Romaine connected on a 49-yard field goal with 13:09 remaining in the half, Oregon State held commanding advantages in total yards (172-12), plays (27-9) and first downs (8-0).
The Beavers led 10-0 after one quarter, scoring on a 36-yard field goal by Romaine and on a 17-yard touchdown pass from Mannion to Richard Mullaney.
Utah didn't have its first breakthrough until Wilson connected with Dres Anderson on a 49-yard scoring strike with 10:03 remaining in the second quarter — on the possession that followed Romaine's second kick for Oregon State.
After cutting the deficit to 13-7, though, Utah's newfound momentum was matched by a lengthy and time-consuming Oregon State scoring drive. The Beavers marched 90 yards on 11 plays over a span of 6:38 to regain their previous advantage, capping things off with a 7-yard touchdown pass from Mannion to Connor Hamlett.
Utah managed to close the gap to 20-10 by halftime, however, thanks to a 27-yard field goal by Phillips down the stretch.
When play resumed, the mixed bag of success continued for Utah.
It started off negatively. Just 54 seconds into the second half, Oregon State cornerback Sean Martin picked off a pass from Wilson and returned the interception 27 yards for a touchdown.
Wilson, though, responded with a 35-yard touchdown run only four plays later as Utah made it 27-17. It stayed that way for exactly eight minutes. That's when Bubba Poole scored on a 1-yard run as the Utes closed the gap even more.
The defense followed with a three-and-out, adding drama to the 27-24 game.
In keeping with the script, however, another momentum shift followed on the ensuing possession. Wilson was intercepted by cornerback Steven Nelson and the Beavers quickly capitalized. On first down, Mannion teamed with Cooks on a 55-yard touchdown throw.
Trailing 34-24, Utah fired back early in the fourth quarter when Wilson completed a 15-yard touchdown pass to Lucky Radley with 13:41 left to play.
After having its lead cut to 34-31, Oregon State answered with a 20-yard field goal by Romaine. The Beavers moved into scoring position by converting on a fourth-and-1 situation with a pitch to running back Terron Ward, a lateral back to Mannion, and a 48-yard completion to Cooks.
Down 37-31, Utah's initial comeback bid was stymied by Nelson. He picked off Wilson for the second time on the Utes' first play following the kickoff.
The outcome, though, was far from decided. More back-and-forth play followed before the game was complete.
Wilson and Phillips gave Utah its first lead with 4:25 to go. Wilson ran 25 yards for a touchdown and Phillips added the PAT to give the Utes a 38-37 edge.
Things continued to be favorable for the Utes when Oregon State got the ball. They pinned the Beavers in a fourth-and-9 situation on their own 22.
Mannion, though, completed a 13-yard pass to Mullaney for a first down to keep the drive alive. An 18-yard touchdown toss to Cooks and a successful two-point conversion eventually put the Beavers back on top at 45-38 with 2:29 remaining.
Over?
Nope. The Utes forced overtime when Wilson and Phillips tied the score at 45-45 with 21 seconds left in regulation. A 9-yard run by Wilson preceded the extra point by Phillips.
"That was a great college football game. It is unfortunate somebody had to lose, especially that it had to be us," said Utah coach Kyle Whittingham. "I am proud of my kids. They were warriors tonight and hung in there for 60 minutes. We just came up one play short."
Email: dirk@desnews.com, Twitter: @DirkFacer, Contributing: Amy Donaldson