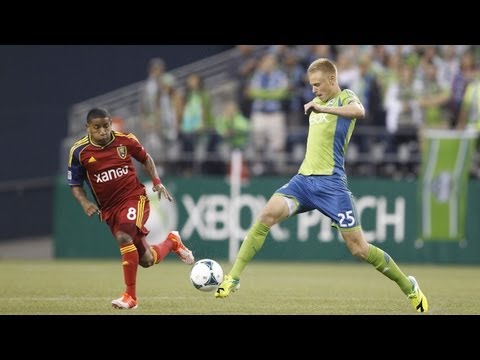 View 6 Items

Everything is still there for us. We now are going to have to go back to work next week, and we still have got some opportunities to get some points. I think if we finish strong we're going to have an opportunity at that Supporter's Shield.

—Nat Borchers
A week off late in the Major League Soccer season can provide a valuable opportunity for weary players to rest. A break can also wreak havoc on sharpness and lead to a falter in form as a team prepares to make a title push.
The latter was the case for Real Salt Lake on Friday night in Seattle. Before the break in its schedule last week, RSL had only one loss in its last six games. Real's first game back was a trip to Seattle on Friday night, where it fell 2-0 and also fell from the top spot in the league standings.
It was a case of simply getting outplayed, individually and collectively, according to head coach Jason Kreis.
"I felt like we had a lot of players have poor games with the ball," said Kreis. "It's atypical. [The week off] played a factor. I think it contributed to some sloppy performances, a little bit loose with the ball, a little lackadaisical in our efforts. I think we got out-competed."
RSL defender Nat Borchers echoed Kreis' assessment.
"We were losing the ball in some very bad spots," said Borchers. "The whole game we weren't sharp. You could tell we had missed a weekend. We were a little bit rusty on the ball, and that really hurt us."
What also hurt was a lethargic start. It took all of three minutes for Salt Lake to fall behind, much to the delight of the large Seattle crowd. The Sounders scored a second goal in the opening half, and RSL never recovered from the setback.
"I honestly felt that we got out-competed," said Kreis. "Whenever you give away a goal in front of [55,000] people, with a very good team like that, you're going to be in for a very difficult night. And, for the most part, it was a difficult night."
The difficulties came all over the field. Players weren't connecting with their passes. Defenders weren't following runners crashing through the penalty area. The usual hallmarks of RSL's game only appeared briefly at times in Seattle, and not enough to affect the result.
But even with Friday's poor performance, RSL is still focused on its quest for multiple trophies this season. There are still games to be played, and Kreis and his players are optimistic that the team will bounce back.
"I think we can brush it off," said Kreis. "We need to get back to work this week — work extremely hard. And get ourselves prepared for San Jose."
When talking of the season as a whole, Kreis added, "I don't think it's done and dusted; it's far from over yet."
"Everything is still there for us," said Borchers. "We now are going to have to go back to work next week, and we still have got some opportunities to get some points. I think if we finish strong we're going to have an opportunity at that Supporter's Shield."