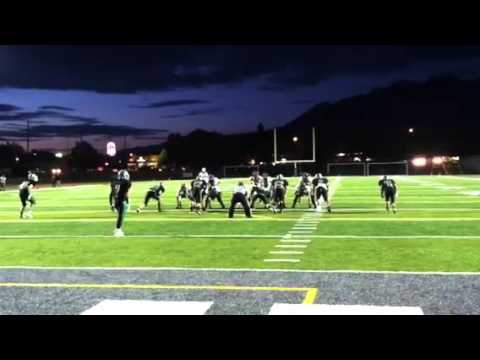 View 8 Items


That's the way we wanted to win it—with our defense on the field. This is 4A football. Every snap, every down is a gut check. You have to battle. And we battled. It's a great win and I couldn't be more proud of our team right now.

—Steve Coburn, Wasatch High School head coach
PROVO On a soggy Friday the 13th, Wasatch High traveled down the canyon to pay a visit to new region partner, Provo High.
After two and half hours of gut-wrenching football, it was the Wasps coming out victorious with a 17-14 spoiling of the Bulldog's Homecoming.
In a game that looked like the visitor was going to dominate right off the bus turned into a nail-biter as the Wasps had to use defensive stand after defensive stand to hold off the hungry Bulldogs.
Wasatch kicked off to start the game, which began under clear skies after a mighty rain had fallen just hours before. On the third play from scrimmage, Wasatch' Carson Lawintercepted a Provo pass giving the Wasps first and ten from the Bulldog's 14-yard line.
With less than a minute expired, Wasatch senior quarterback Zack Reiss zipped a pass to tight end Kayden Connor on its first play and the Wasps were on the board. Skyler Southam added the extra point making it 7-0.
Provo could get nothing going on its second series and was forced to punt putting Wasatch inside their own 20. Sensing the chance to go for the kill, the Wasps' went deep. Reiss again found Connor on the right sideline and the big receiver broke loose for an 80-yard touchdown.
The play was nullified, however, on a holding penalty downfield.
"The block happened right in front of me—I saw it," Connor said. "It was perfect. I don't know what the ref saw."
Despite being only half way through the first quarter, that play being taken off the board by the officials set a tone for the game Wasatch would have a hard time recovering from.
Provo was able to work its way deep into Wasatch territory and eventually down to the one-yard line. But on the next play, Wasp linebacker, Tag Baxter, would rush through the middle and sack the unprotected Provo QB forcing him to fumble. Baxter scooped up the loose ball and rumbled towards midfield before being dragged down at his team's own 40-yard line.
Wasatch took control of the ball and started a drive that eventually stalled at the Bulldog 17-yard line. The Wasps couldn't find the end zone, but added three points on a Southam 34-yard field goal with 2:10 remaining in the first frame.
Provo, behind quarterback, Viliami Iongi, began to find a little rhythm and put together a time consuming drive that ate up over half of the second quarter. Provo would not miss this opportunity, however, once reaching the one-yard line. Iongi took the ball over the goal line on a sneak and after kicker Jonah Higgenbothamadded the PAT, the Bulldogs had moved to within three points, 10-7.
During that drive, both teams were penalized repeatedly, Wasatch was flagged five times during that plodding march down the field and 13 times in the game for a total of 104 yards.
"Penalties? That's just life," Wasatch head coach Steve Coburn said. "I don't like them, and yes there was too many being called out there from those guys. I just wish a few would go our way sometimes."
Wasatch showed offensive life in the remaining minutes of the first half moving the ball into Provo territory and into the red zone. After a couple of misfires into the end zone, Reiss, hit receiver Ben Hill on a slant up the middle with 51 seconds left. After Southam's kick, Wasatch took a 17-7 lead.
The Bulldogs tried for a last minute score pushing the ball into Wasp territory, but Nick Piscitelli intercepted an Iongi pass to stop the threat.
The second half was a true defensive battle. Wasatch, receiving the kick-off to the third quarter and hoping to come out strong fell flat with a three and out.
Provo managed to get on the board after another long drive consumed most of the third quarter. With first and ten from the Wasp six-yard line, running back Marcello Ortolano took a direct snap around the right end for a touchdown at the 7:00 mark. Higgenbotham's PAT made it 17-14.
Wasatch continued its rotation of quarterbacks, alternating sophomore Garrett Davis with Reiss, but neither could get anything going in the second half. Tailback's Hunter Pella and Jon Durrant made gains, but for no significant yardage. Connor made a few more catches, as did senior wide-out Kyler Cook, but the visitor could not find pay dirt.
The Wasps, as they had done in their previous two games, relied on a tenacious defense. When their offense could get nothing going and a raucous home crowd against them, Wasatch came through with big stops on third downs and forced Iongi into bad throws that would lead to two more interceptions.
After Zach Strong's pick sealed the victory for the Wasp's, Coburn was quick to praise his defense.
"That's the way we wanted to win it—with our defense on the field," the head coach said. "This is 4A football. Every snap, every down is a gut check. You have to battle. And we battled. It's a great win and I couldn't be more proud of our team right now."
Connor, the Wasp's big receiving threat, who finished the game with 77 yards on eight catches and a touchdown—and another one taken back, was even in on the stops in the end working in the defensive backfield.
"Yeah, I'm a little tired. It took a little bit out of me, having that one called back," Connor said referring to his long touchdown reception that was disallowed.
Comment on this story
"But really, these games now are more mentally tough than physically. After my ACL (tear and surgery in 2012) and just working back—it's been tough," Connor said.
"I think as a team though we're getting some confidence now. We're not letting up on third and longs like we did earlier and just executing everything a lot better."
High School Football: Wasatch guts out first Region 8 win at Provo
Sophomore placekicker Skyler Southam's 34-yard field goal proved to be the difference in Wasatch' 17-14 win over Provo.