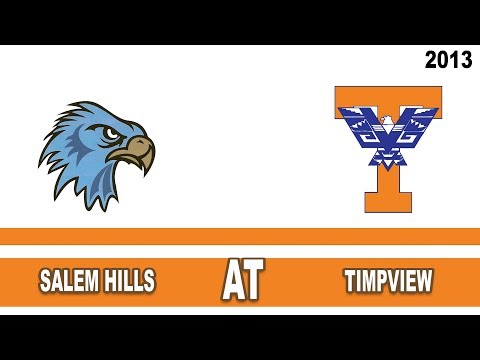 View 38 Items

PROVO — Friday the 13th loomed large in the minds of the Salem Hills Skyhawks.
They arrived at Timpview Friday night with high hopes of turning a famously unlucky day into a very lucky night for themselves as they sought to extend their win streak to four in a row.
Nevermind that Timpview, the perennial powerhouse in Region 8, beat 5A standout Alta last week, not to mention that it was Timpview's homecoming game on their home turf.
Nevermind that Timpview has a runningback named Kendell Tu'ua who slices through defenses like a hot knife through butter.
The 3-0 Skyhawks were confident that based on how they dispatched their previous three opponents they could give Timpview all they could handle.
It turns out they were wrong. Very wrong.
That became clear at the outset when the Timpview Thunderbirds set the tone in what became a relentless barrage of shock and awe, quickly dismantling any lofty hopes of victory for a greatly outmatched Salem Hills.
Timpview scored three times in their first four possessions, overwhelming Salem Hills with superior size and speed.
The onslaught commenced just two minutes in. Timpview got a safety on Salem Hills first offensive play of the game and they didn't let up until they had 40 points on the board, making the final score 40-7.
For Timpview, the story of the night was senior running back Kendell Tu'ua who had his way with the Skyhawk defense all night, churning out yardage on every carry and scoring Timpview's first and last touchdown of the night.
Another Timpview senior, Rhett Van Leeuwen, came up big for the Thunderbirds with two touchdown catches from quarterback Brittain Covey. Tristan Bradley added another Thunderbird score with a one-yard lunge in the first quarter, and Zach Simpson kicked a field goal late in the first quarter.
Salem Hills, on the other hand, only scored one touchdown. Porter Gustin, who came into Friday's game as the state leader in TDs with 11, struggled all night to find his receivers down field.
Comment on this story
Timpview had Gustin on the run from the get go. Scrambling for his life, he had no time to set up and get into a rhythm. The tenacious Timpview defense caused havoc for him and the normally high-scoring Skyhawk offense. However, Gustin did manage to connect with Ammon Fifita on a 17-yard pass late in the second quarter, giving Salem Hills their only touchdown on the night.
"Timpview is a phenomenal team with great athletes who are well coached," Salem Hills coach, Joel Higginson, said of the game. "Unfortunately our focus was lacking from the opening kickoff, which really set the tone for the way we played.
"We have to get better at dialing down our assignments and staying true to our responsibilities. We learned some tough lessons from this loss and will use it to make us a better team."