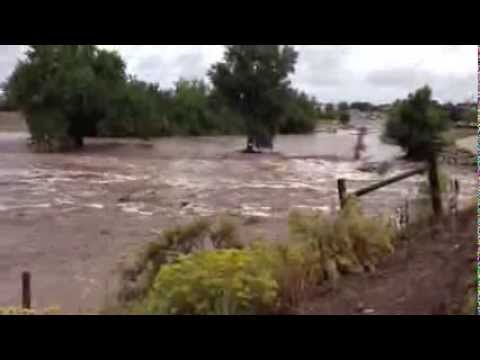 View 72 Items
Keith Poulson


BOULDER, Colo. — Utah Task Force 1 arrived in Colorado on Friday evening to begin work in the flood-ravaged area.
The 80 members of the Utah Urban Search and Rescue Team, consisting of firefighters and paramedics from the Unified Fire Authority, Salt Lake City Fire Department and Park City Fire District typically move by ground to get to areas where help is needed.
But because the roads to several Colorado communities have been washed out, leaving homeowners no way to get in or out, the USAR team will be flown into those areas by helicopter, with assistance from the Colorado National Guard, beginning at 6 a.m. Saturday and start going door-to-door.
"Our operations (Saturday) will be to drop in to any of those areas and perform what we call a hasty search," said Utah Task Force 1 leader Keith Bevan. "So they'll move through those homes. If they're there, they'll offer any sort of support they need. They'll offer to evacuate them at that time. And if anybody needs any sort of assistance, whether it's medical or any other, we'll provide that at that time."
The Utah task force is one of three USAR teams deployed to Colorado immediately after President Barack Obama signed a disaster declaration. The other two are from Nebraska and Colorado. In all, about 250 USAR members converged at the base camp Friday at the Boulder Municipal Airport.
Federal Emergency Management Agency spokesman Zuni Zuniga said it was the largest deployment of USAR teams for a disaster in Colorado history.
The weather, however, cooperated with local officials Friday. Zuniga said it was the first time local search and rescue crews were able to get to some of the isolated communities by helicopter and start extracting people from the area.
Zuniga did not know Friday how many people had been evacuated or how many more were stranded.
Throughout the college town of Boulder, mud and remnants of floods in the street remained Friday night. Some dorms had piles of carpet ripped out and stacked outside. Many of the creeks and rivers that run through campus remained high.
"Roads are not only damaged, but they're destroyed. Not just cut one in place, but several," Zuniga said of the surrounding area.
It was something Utah Task Force 1 discovered all too well. The team was activated at midnight Friday and on the road by 6:30 a.m. The last 100 miles, however, took them about 4 ½ hours.
"We made it into Colorado early, but the road closures were a big issue for us," Bevan said.
Even with constant radio contact with the Emergency Operations Center, and at one point face-to-face contact with a state trooper, the roads were being closed faster than the information could be relayed back to the them. At one point, Bevan said they got within 12 miles of Boulder before being forced to turn around, retrace their steps and find another road.
The Utah team immediately went to work as soon as it arrived at the airport, unloading three large semitrailers and setting up large tents, as well as its own sleeping quarters.
Bevan said he had an experienced team with him, and they expected a busy day Saturday.
"A lot of us worked World Trade (Center). A lot of us have worked hurricanes, that kind of thing. We worked the floods in Logan, but not on this scale. This is many, many miles of flooding that stretch not only north and south but east and west," he said.
Areas from the southern border of Wyoming to west Denver have received up to 8 inches of rain over the past week. Cities near the Front Range mountains experienced flooding, including Colorado Springs, Denver, Fort Collins, Greeley, Aurora and Boulder.
1
comment on this story
Four people have died in the flooding — one who drowned in north Boulder, another when a structure gave way in Jamestown, northwest of Boulder, and one whose body Colorado Springs police found in Fountain Creek on the city's west side.
The flood caused destruction throughout the area, washing out roads and flowing into homes.
Thousands of people have been evacuated, including students at the University of Colorado. The school shut down classes after one-fourth of its buildings were flooded.
Contributing: Associated Press
Email: preavy@deseretnews.com, wevans@deseretnews.com
Twitter: DNewsCrimeTeam