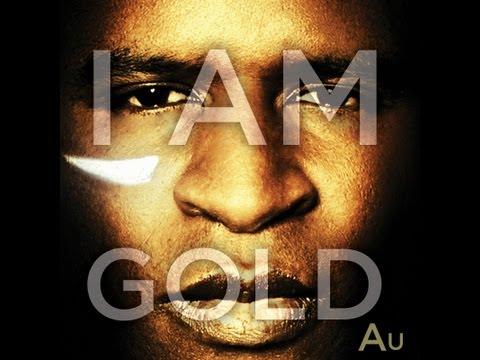 View 5 Items
YouTube

Listen to "I Am Gold"
Buy the single "I Am Gold" on iTunes
---
While watching the 2012 Olympic Games on TV with his wife last summer, singer-songwriter Alex Boye received inspiration for his new song, "I Am Gold."
"I was listening to the athletes being interviewed after they'd won their respective medals, and there was this pattern going on with the athletes," Boye said. "It was like, the ones that won the bronze (said), 'Oh, I didn't think I would make it this far. I'm just happy I got to represent my country.' ... And then the silver medalist would say something like, 'I tried my best.' But the gold medalist would say something like, 'I've dreamed of this moment since I was a child, I knew I'd won before I even got here.'
"It kinda got me thinking ... about life outside athletics. What's the quality of our daily thoughts and our conversations with our family ... at work (and with our) friends? Are we engaged in bronze talk, silver talk or gold talk?"
The power of thoughts became a driving message behind the singer's new song.
"There's this scripture in 2 Nephi 24:24 that says, '... As I have thought, so shall it come to pass...' (and) I once said, 'If you want to know what you'll be like in five years from now, just listen to what you're saying about yourself today,' " Boye said.
"I start thinking to myself, 'What type of life am I pitching to myself,' putting it in bronze, silver and gold category. And then I started getting excited, thinking, we can't say stuff like 'I can't do it right' or 'I'm a failure' or 'this semester I'm going to slack' or 'I'm a terrible mother' or 'I'm probably going to get laid off,' because I believe we bring about what we speak about."
Boye's latest album, "Africanized," features both covers and original songs that are "pop music with an African twist."
"I'm always saying that music has no passport," Boye said. "When people say music is a universal language, I really want to get that across."
Boye has scheduled performances on national shows such as "Ellen," "The Tonight Show" and "The View."
"You can't get further away from a fireside then doing those type of things, but I'm excited about it," Boye said. "It's an opportunity that I really believe the Lord has given me, and it's opened up these doors. So I've just got to step through (these doors) ... and see how it goes."
Boye received funding for his album from Kickstarter.com. He plans to distribute free, limited-time access to his songs as a way to give back to his donors, about 90 percent of whom were from Utah.
The single "I Am Gold" will be released later this week, and Boye's album will follow later this fall. "Africanized" will include music videos in addition to the tracks. One of the music videos is recorded with the Mormon Tabernacle Choir, of which Boye is a member.
Abby Stevens is a writer for the DeseretNews.com Faith and Family sections. She is a graduate of Brigham Young University–Idaho. Contact Abby at [email protected].