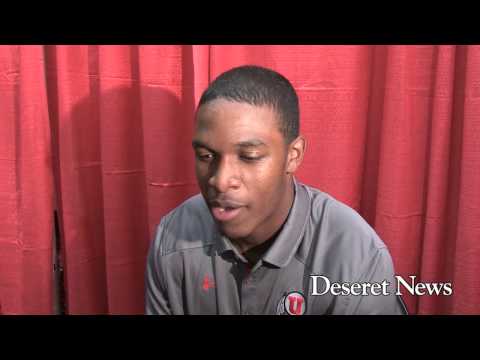 View 2 Items

I was looking for a good mixture of academics and athletics. I wanted a school with a good winning tradition and a really good school along with it. Then when I met the players on the team, I felt the family vibe.

—Utah safety Eric Rowe
SALT LAKE CITY — Back when he was in high school, living just north of Houston, Eric Rowe knew little about the University of Utah football program. He knew "bits and pieces" about the Utes' 2008 season and Sugar Bowl victory over Alabama. He was also intrigued with a college football video game that came out featuring Utah quarterback Brian Johnson, another Houston product, on the cover.
When Utah assistant coach Morgan Scalley came calling during his junior year at Klein High School, Rowe knew enough about the Ute program to listen.
He liked what he heard.
"I was looking for a good mixture of academics and athletics," he said. "I wanted a school with a good winning tradition and a really good school along with it. Then when I met the players on the team, I felt the family vibe."
After earning all-district and all-state honors in Texas, Rowe headed to Utah, where he became a starter at free safety almost from the day he stepped on campus.
The 6-foot-1, 205-pound Rowe has started 25 games for the Utes — every game as a true freshman when he was named a freshman All-American, and all but two last year when he had to sit out with an injury.
This year he's taken on a new leadership role because of the turnover in the Ute defensive backfield. Last year, he was one of the youngsters, but Reggie Topps, Ryan Lacy and Mo Lee all graduated, leaving Rowe with an entirely new group to work with in the defensive backfield. He's embraced his role as a leader.
"It's my role to help bring them along," he said. "I told them we need to get our technique right because it's going to be a long road with the competition this season."
The Utes' secondary isn't all that young — inexperienced would be a better word. The other starting safety is Michael Walker, a senior who has mostly played on special teams and at nickel back during his first three seasons. The two corners are senior Keith McGill, a converted safety, and Davion Orphey, a junior college transfer, with freshman Reggie Porter seeing increased playing time.
"They're shaping up good, but still have a lot of things to work on technique-wise," Rowe said. "You've just got to progress and can't take any steps back because competition is rough in the Pac-12. They understand that. They're getting better every week. I've told them I'll always have their back if the deep ball happens."
Rowe is off to a good start, leading the team with 10 tackles in the opening win over Utah State and getting three pass breakups in limited duty against Weber State. He's only had two interceptions in his first two years and would like to add to that total this year.
The Ute secondary was challenged the first week by Utah State quarterback Chuckie Keeton, who completed 31 of 40 passes for 314 yards. Utah will face a similar challenge this week from Oregon State's Sean Mannion, a junior who has started all but two games in his college career.
He started against the Utes as a freshman in 2011, but missed last year's game in Corvallis, Ore., with a knee injury. Mannion has already passed for more than 6,000 yards and is the fifth most prolific passer in OSU history.
Rowe remembers Mannion from his freshman season and knows the Ute secondary will have its hands full Saturday night.
"I don't know how much better he's gotten, but I remember him being a good quarterback with a good arm," Rowe said. "We all know this is a tough test because he is a top-tier quarterback in the Pac-12."
The fact that Mannion is 6 foot 5 actually helps defenders like Rowe.
"That's an advantage for me, because I can see where he's going," he said. "The problem with the short quarterbacks are that they sometimes get lost in the line."
In the 2011 game, the Utes did a good job of holding Mannion down as he had his second-lowest passing output of the season (231 yards) along with three interceptions and six sacks for minus-59 yards as the Utes won 27-8.
The Utes are hoping for a similar outcome this week.
"I have confidence we can pull another win out and go to 3-0," said Rowe. "Our confidence is high, but if we can get this win against Oregon State I think we're going to be unbeatable this year. We've still got a lot of things to work on, but if we get a win this week, our confidence will skyrocket."