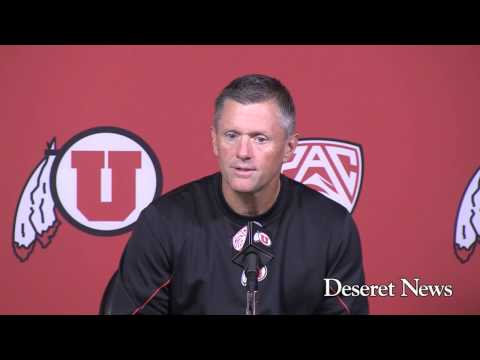 View 2 Items

We have to get a pass rush. I think that is where it all starts. Not let (OSU quarterback Sean Mannion) get comfortable back there and have all day to throw the football, because when he does he is very effective.

—Kyle Whittingham, Utah football head coach
Ute coach Kyle Whittingham addressed the media Monday on the University of Utah's campus. He answered questions about Utah's 70-7 victory over Weber State and the Utes' upcoming contest against Oregon State.
Here is a full transcript of that press conference.
On mobile? Watch the video on YouTube.
Kyle Whittingham: OK, as far as the game Saturday, I thought we did what we were supposed to do. Good performances on both sides of the ball. Travis Wilson was exceptional at quarterback; Tenny Palepoi had a big game at defensive tackle — even though they each played only half the game. Did a nice job. It was good to get the (backups) a bunch of work. They played the entire second half, and those reps will be invaluable in some point in time for those guys. So, it was good to start the season at 2-0. It was what we anticipated and hoped for, and that's where we are at.
Pac-12 opens this week. ... Pac-12 play for us, Oregon State coming to town. They have done a good job offensively. They are scoring 40 points a game — just about 40 points a game — and over 500 yards a week of offense throwing the ball exceptionally well.
(Oregon State quarterback Sean) Mannion is throwing for over 400 yards a game, exceptional. His pass efficiency rating is up in the 180s. So, they are doing a nice job with their offense through two games. It's important to get started off on the right foot in Pac-12 play this year. We haven't been able to do that last couple of years so that is our objective is to try and get started on the right foot this year.
Questions?
Reporter: Oregon State looks like they have struggled against the pass so far in their first two games. It looks like they are ranked last in the conference in that. Is this a big week for your pass game obviously or is it more complicated than that?
KW: Well, you know we try to be balanced offensively with the run and the pass, and I thought we were balanced last Saturday. And so that is not going to change. I thought they did a pretty good job against Hawaii. I think they only gave up 250 —somewhere in that range — total yardage and so we gotta be able to run the ball effectively to have the offense where we want it to be. I don't think there is going to be any more emphasis on the pass this week than in weeks past, but we will see what happens.
Reporter: You mentioned some numbers that Mannion has put up for Oregon State the last couple of weeks. What do you feel like the key will be against him defensively for you guys?
KW: We have to get a pass rush. I think that is where it all starts — not let him get comfortable back there and have all day to throw the football, because when he does he is very effective. They have a lot of max-protect schemes where they have three-man routes, keeping the tight end back to block, and we have to be able to get pressure even when they are protecting with seven.
Reporter: Talking about their passing just how do you feel about your secondary? At the start of the year you were concerned about your secondary. How do you feel your secondary is shaping up at this point?
KW: I still am concerned. We've had some bright spots in the first two weeks with the secondary. We also had some not so good things happen back there, and so it's a work in progress with our techniques, our fundamentals and just playing the coverages as they are designed to be played. I think we have made progress, but like I said it's still something that is going to be needed to be improved upon week in and week out from this point forward.
Reporter: Coach, I know you were looking for more aggression out of your run blocking, your run game, your offensive line. Did you feel that you got that this week?
KW: I think so. We took a step forward in that regard. We had over 300 yards rushing, so the overall yardage was very positive. We had some big runs in there, some explosive runs. So I think we did a nice job now that the degree of difficulty gets higher this week with the front seven of Oregon State that's been historically pretty good. They got the defensive end that's an outstanding player, so I'm going to tell you right now, if we are able to rush for 300 again this week, our chances of winning are very good. We'll see what happens.
Reporter: Obviously, Mannion is a-top tier quarterback in the conference. Do you think it helps in your preparation this week that you have already seen Chuckie Keeton and you have seen some of the speed and athleticism of the wide receivers that you will see out of Oregon State this week?
KW: Yeah for sure. With Chuckie, it was a big test for our defense. Although Mannion doesn't run the football like Chuckie does, he's got the a big arm, and the receiver (Brandin) Cooks has been his favorite target. Cooks and the big tight end have been his two favorite targets. I think the experience we had trying to defend Utah State's offense will be a plus in this game, although its two different styles of offenses, but still the throw game for both offenses is very good.
Reporter: Are we going to see more of Lucky Radley after his big performance on Saturday?
KW: Yeah, Lucky played very well — over 100 yards rushing in the second half. With Kelvin (York) and Bubba (Poole) still the lead backs, but Lucky certainly played exceptionally well and earned a right to carry the football more. I guess to answer your question, yeah he's going to be more prevalent. I don't believe that he unseated any of the other two guys.
Reporter: What are your thoughts on the outcomes of Eastern Washington beating Oregon State as you watched the film on that and also Washington State's win over USC.
KW: The quarterback at Eastern (Washington) made a ton of plays in that game. They were a very good offensively and just made play after play for the entire football game. Oregon State couldn't slow them down. They had a bunch of yards and a bunch of points, and the quarterback was really the catalyst in that game.
I'm very happy for Mike Leach. He is a close friend of mine, and that is a big win for Washington State to go into Southern Cal and to get a win that hasn't happened for I don't know how many years. But it's been a long time since Washington State has been able to do that. So kudos to Washington State and to Coach Leach in particular.
Reporter: Coach, (this is) your earliest homecoming that you've ever had. Talk about the emotional aspect of getting amped up for a homecoming game and doing it this early in the season.
KW: We have a great crowd every week, so it's not going to be any different in that regard. The homecoming is more for the fans and the alumni and that type of thing. Our crowd is great week in and week out. Typically we don't, as a football team, pay attention to homecoming. In fact they didn't even know about homecoming 'til you just mentioned that, and so it's something that our crowd is behind us and supporting us every single week.
Reporter: How have your linebackers graded out the first two weeks, especially with the inconsistencies of a year ago?
KW: Not bad — much better over last year. Still not where we need to be. I would say the most consistent performer has been so far Jarrod Norris. He has been steady in both games. V.J. Fehoko has played some good snaps. Jacoby Hale was not quite as effective in this last game as he was in Game 1. But as a group, I think they are much better than they were last year but still needing to continue to improve.
Reporter: The Utes have struggled in Pac-12 openers the last couple of years. Talk about the importance of this game in terms of the season, opening up at home, potentially getting a win against Oregon State and what that means.
KW: It would be great to started on the right foot, as I mentioned earlier, and that is something that we haven't done in our first two years in the conference. We are going to prepare and hopefully have a great week of practice. Right now we have a little bit of momentum on our side with the first two victories. It should be a good game. We got them at our place two years ago and they got us at their place last year, so our guys will be excited to get out there and start conference play.
Reporter: Are you guys still experimenting in return game with both punt and kick returns.
KW: Not so much. Bubba Poole is the lead guy. He got on track. It was good to see our punt return game on track. In the Weber game on Saturday, we had a bunch of yards. Kickoff return, we did not have much opportunity. ... They kicked off a couple times. Bubba is going to be the lead guy. Delshawn McClellon also is a guy that you saw get a return, so he is guy that may be a factor there as well. Right now Bubba is still the guy that will handle both kickoff return and punt return duties.
Reporter: Watching things offensively Coach, (I) saw the tight ends pop open a couple times in the first quarter. They were not targeted or thrown too. I know that was one thing you were looking for. Seemed like there were some opportunities there. Maybe there was some plays that were dialed up for them. Is that something that you will be paying attention too again. I know that some of you said last week that you needed to get the tight ends more involved.
KW: Yeah, I think we will continue to pay attention to that. We did pay more attention to it this past game, and as you mentioned we did have a couple Y-option routes that Travis just lost sight of the tight ends for a second so he came off it, but we got to continue to integrate those guys into the offense. I think you saw some of that on Saturday, but going forward, we are hoping that those guys become even more of a factor for us.
Reporter: Coach, you talked about the importance of getting those reps for the second- and even third-string guys. What about the importance also of getting the first-stringers out of there healthy and get them rested going forward.
KW: Yeah, that's another positive spin as well. Your (first-teamers), they've played, depending on which side of the ball you're on, 30 to 45 snaps. I think that with the season as long as it is — 12-week season — and as many snaps as you're having to defend these days, I think the wear and tear obviously in that game was very minimal. That's another positive as well as getting the (backups) reps, and so hopefully in the long run, in the big picture, that should be a positive for us.
Reporter: In these first couple of games, it could be said that Oregon State has struggled defensively. Do you see anything on their defense that you can take advantage of, or what do you see from these guys?
KW: Well, they played much better against Hawaii than against Eastern (Washington). They held Hawaii to about half the yardage — less than half the yardage, I think — than Eastern got, and far fewer points. Again, just a couple games is really not enough to get a good feel and a good barometer for what you've got or what an opponent's got. We're going to go in with a plan. We're going to use last year's game as a blueprint as well as far as schematics. So, we'll see what happens, but the defense did definitely show up much better — Oregon State's defense — this week than they did in Week 1.
Reporter: Coach, you've talked so much about needing explosive plays. In two games, it's hard to judge for a whole season, but are you seeing elements of this offense that maybe weren't there in the past when it comes to that?
KW: Oh yeah, without a doubt. Particularly when you compare it to the past couple years. This Saturday, we didn't snap the ball a whole bunch of times because of exactly that. We had some quick-strike scoring drives that didn't last very long — you know, one or two plays or three plays. So, that's something that has been severely lacking the last couple years and has shown up in the first two games this season. We hope it continues, because if it does, our offense has a chance to be pretty darn good.
Reporter: This rivalry has been very interesting. You've had some very weird things happen, whether it was Matt Asiata going down last year, or a lot of turnovers. ... Can you just talk about this rivalry that you've formed with Oregon State?
KW: Yeah, it's been great. It really started back in '08, I think when, uh ... Well, I guess it was before that. The year before that was the one where we had the injuries. I think — am I correct there? Your memory's probably better than mine, but in '08 we had the great overtime game that really started, I guess you could say, the rivalry, and that continued as soon as we joined the conference.
Mike Riley's done a great job with that program. They had a tremendous year last year. Still, like everyone in the country, trying to figure out who they are this year. It's been a rivalry in a sense, and (there's been) some good games. Last year was close — we came up on the short end — but it's been close. It's been good.
Reporter: How nice is it to have had a successful four-minute and a successful two-minute (drill) already in the first two games of the season?
KW: It's good. We debated at the end of the first half — you know, we had a comfortable lead — and they were out to punt, and it was obvious that they were going to take the delay of game (penalty) so we took the timeout. That left us with a minute and a half.
5
comments on this story
I talked to Dennis (Erickson) and Brian (Johnson) about how we should handle that next series. We had not done real well on the two-minute drives in fall camp. We were still a little bit rough in that regard, so we decided to go ahead and implement it. It played out very well. They executed it without flaw. At the end of the game, I think we ran six, seven, eight minutes off this week.
Last week we were able to burn just about the entire four minutes plus against Utah State and then this past week another good showing. ... So, yeah. situational football is huge, and I think we're going a good job in that regard so far.
Utah staff: Questions?
(No answer)
KW: Thanks guys!
Justin is a recent graduate of the University of Utah. EMAIL: jgiles@deseretnews.com