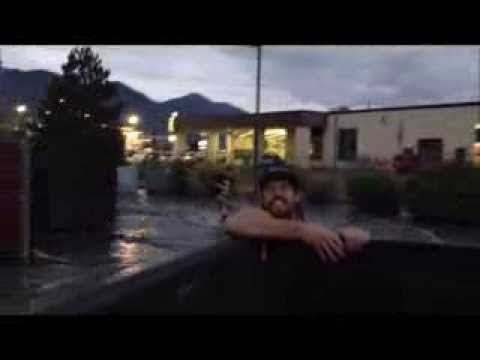 View 7 Items




PROVO — Several residents documented on video how they took advantage of the extra water that came from Saturday's heavy rainstorm.
Jason Harward, Gabe Phillips, Jesse Lundquist and Isai Hernandez posted a video to YouTube that shows Harward and Phillips wakeboarding through several flooded parking lots.
The rain caused a two-hour delay of the Brigham Young University and University of Texas football game at LaVell Edwards Stadium. Fans were asked to leave their seats during the delay and find places to stay dry and safe from any lightning. The Cougars went on to beat the No. 15 Longhorns 40-21.
Standing water on roads and parking lots caused several delays, but no evacuations were put in place in Provo. According to The National Weather Service, winds reached 45 miles per hour in Provo on Saturday.
The Utah County Sheriff's Office reported mudslides in the American Fork Canyon that caused Route 92 to shut down at milepost 10. The closure stranded 150 people in the Timpanogos Visitors' Center.
Provo resident Tim Mellor was hiking down from the summit of Mount Timpanogos with his 13-year-old son when the storm hit.
"Our trail was completely washed away by an amazing rock slide," said Mellor, who captured the incident on video.
In Alpine, the heavy rain and mud on the Quail Fire burn scar forced about 100 homes to be evacuated for a few hours on Saturday. Volunteers helped clean up flooded neighborhoods Sunday and prepare for the next round of rain.
Residents in Pleasant Grove were asked to boil their water following the storm. Officials said the city's water supply may have been damaged or contaminated. The 'boil order' has since been lifted.
"Thank you all for your patience as our crews work toward immediate and lasting solutions to what Mother Nature brought us on Saturday," wrote Pleasant Grove Mayor Bruce Call on the city's website.