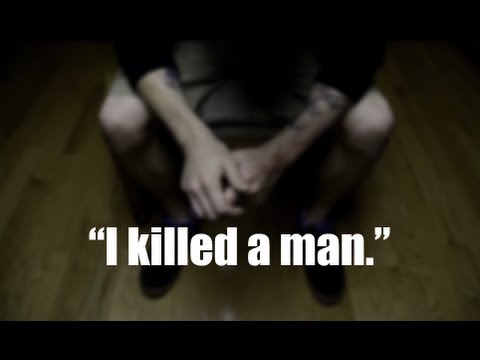 View 6 Items
YouTube

I'm willing to take that sentence for just one reason, and that reason is so I can pass this message on to you. I beg you, and I say the word beg specifically. I'm begging you, please don't drink and drive.

—Matthew Cordle
COLUMBUS, Ohio — Matthew Cordle, 22, released a chilling YouTube video last week, confessing to being drunk when he crashed into another car this past June and killed a man. The young man from Ohio expressed he is now ready to go to prison "for a very long time" and he's willing to "take full responsibility."
The video begins with a blurred face and muffled voice as Cordle describes why he drank and how it made him feel.
"I really don't like the person I become when I drink. I've ruined relationships in the past, I start fights, I just generally become a person that people don't like being around," Cordle said before revealing his identity.
He proceeds to describe the night of the accident:
"On that particular night, I made a mistake and got in my truck completely blacked out and decided to try and drive home. I ended up going down the wrong way on the highway, directly into oncoming traffic and I struck a car. I killed a man."
Just more than a minute into the viral video, Cordle then removes the blurred image of his face and confesses to his crime.
"My name is Matthew Cordle, and on June 22, 2013, I hit and killed Vincent Canzani. This video will act as my confession."
Before posting the video confession last Tuesday, no charges had been made against Cordle, according to the video description. Cordle even explains in the video that several high-powered attorneys assured him that if he would lie, they could get him off without any charges. But Cordle has refused to do so.
"When I get charged, I will plead guilty and take full responsibility for everything I've done to Vincent and his family," Cordle said in the video.
As the three-minute video concludes, Cordle explains the reason for posting his confession online.
"I'm willing to take that sentence for just one reason, and that reason is so I can pass this message on to you," Cordle said. "I beg you, and I say the word beg specifically. I'm begging you please don't drink and drive."
Cordle's video was produced and published by Because I said I would, a nonprofit organization in Ohio. Founder Alex Sheen began the social movement that is "dedicated to bettering humanity through the power of a promise." The group sends "promise cards" around the world to encourage positive change and acts of kindness.
Cordle's video is posted on the site, explaining that Cordle got in contact with the group through Facebook.
"We receive thousands of messages each month, but this particular message was unfortunately unique," the description said. "I decided to help because the man who is sitting in this chair has something to say that I believe you should hear."
The site continued to press the importance of committing to not drink and drive, and has posted to Facebook its own promise card of commitment.
Since releasing the video last week, it has already received more than 1 million views and 3,000 comments. The sponsor "Because I said I would" has been very verbal on its social media sites about taking the correct message from the video.
"After releasing Matthew's confession video, many positive comments about Matt have been posted to this page, YouTube and several other sites. While Matt certainly made an honorable decision to confess, Because I said I would does not believe that Matt should be praised as a 'hero,' a Facebook post read.
"Matt made an irresponsible choice to drink and drive that ended an innocent man's life. Matt decided to release this video because he wants to raise awareness about the dangerous and irreversible consequences of drinking and driving. If that message is not heard … if viewers do not make the commitment to never drink and drive, then the video has certainly failed in its mission."
The Columbus lawyer representing Cordle, George Breitmayer III, spoke with the Columbus Dispatch regarding the video, stating he was unaware that Cordle had planned to post any confession online.
"This video he released demonstrates his character, bravery and integrity, and I know he fully intends to cooperate with law enforcement and Franklin County prosecutors throughout the course of any future criminal proceedings," Breitmayer told the Columbus Dispatch.
Franklin County Prosecutor Ron O'Brien also told the Columbus Dispatch that he plans to ask a grand jury on Monday to indict Cordle on a charge of aggravated vehicular homicide, a second-degree felony that carries a sentence of between two to eight years.
Email: spetersen@deseretnews.com