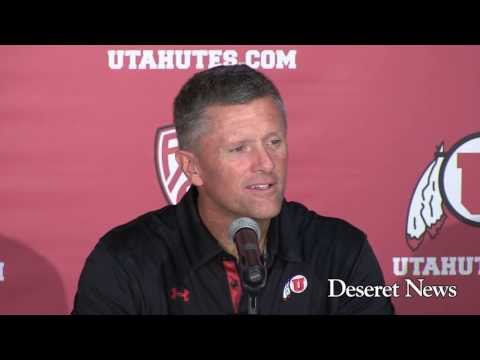 View 51 Items


It's an opportunity for our fans to get to a home game in essence in the state and I think it drums up a lot of excitement to have an in-state game like this. So it's huge for our program. We love being here and we're grateful for the opportunity.

—Jerry Bovee, Weber State athletic director
SALT LAKE CITY — Utah moved a step closer to the state championship. A week after defeating Utah State, the Utes dispatched Weber State 70-7 at Rice-Eccles Stadium. It was the second leg of a three-game non-conference slate that features only Beehive State opponents. They finish things off Sept. 21 at BYU.
Utah athletics director Chris Hill acknowledged that an all in-state non-conference slate is "pretty rare" considering the challenges of scheduling. The Utes, he explained, have a formula that's a little different than everyone else in the country being in the Pac-12 (nine conference games) and two established in-state rivalries (BYU and Utah State).
As such, Hill said "let's enjoy today" when asked about the future of another all in-state non-conference schedule.
Weber State collected a $400,00 payday for the game, something that Hill acknowledged was pleasing to legislators he spoke with who were happy to learn that the money was staying in the state. Southern Utah is scheduled to play in Salt Lake City in 2016.
With Utah hoping to play an FCS opponent each year, Hill anticipates another contest with Weber State down the road.
"I don't think that's a bad idea," he said. "You can't do it every year, but I don't think it's a bad idea to do that."
Weber State athletic director Jerry Bovee understands the situation. He noted that the Wildcats usually get about five home games each year and an additional contest close to home is beneficial.
"It's an opportunity for our fans to get to a home game in essence in the state and I think it drums up a lot of excitement to have an in-state game like this," Bovee said. "So it's huge for our program. We love being here and we're grateful for the opportunity."
The Wildcats, who played at BYU last season and will play at Utah State next week, are hopeful of getting into a regular rotation of sorts with the FBS teams in the state. Bovee has discussed the matter with athletic directors Scott Barnes (USU), Tom Holmoe (BYU) and Hill. He's spoken with Barnes about the possibility of getting into a rhythm every three years or so.
"We hope to be in a rotation where we can," Bovee said. "We hope to be in a rotation where we can just play near home and play one of those games in-state."
Bovee noted that Wildcats have games scheduled at Arizona State next year and in the future at Oregon State. Ultimately, though, he would like to play either BYU, USU or Utah each year.
"But when it gets down to scheduling it can get a little difficult to make that all match up in the weeks we need to," Bovee said. ". . . But once we get going I would love to just be close by and be able to play in-state games."
NOT SO HAPPY: Just before the end of the first half, Utah scored a touchdown with four seconds left on a short pass from Travis Wilson to Sean Fitzgerald. No big deal, but at the time the Utes were leading 42-0 and they went into their two-minute offense to get the score.
Weber State coaches took umbrage at the Utes extra first-half touchdown as Wildcat assistant reportedly told Ute assistants as they passed in the press box at halftime, "thanks for the two-minute offense" along with some other choice words. Afterwards, Weber coach Jody Sears acknowledged it was upsetting, but tried to shrug it off.
According to Utah coach Kyle Whittingham, the Utes needed to practice their two-minute offense.
"That's the reason we did,'' he said. "Obviously the game was pretty much in hand right then, but you've got to look forward. We didn't get too many situations to work on it in our fall camp, so we had to take advantage of that.''
FAMILIAR FACE: Former Ute and Atlanta Falcons star Jamal Anderson said he was excited to be in the booth calling the action for the Pac-12 Networks. Saturday's game was his debut with the network.
"It was a natural fit for me so I'm thrilled," Anderson said. "And then to have my first game back in Salt Lake City, I couldn't ask for a better environment."
EXPANDING REACH: The Pac-12 announced a new partnership with AT&T, expanding the reach of the conference networks. AT&T will distribute three television networks and become the exclusive wireless provider for Pac-12 venues. Hill said the agreement extends the Pac-12 Networks' reach to one million new homes via U-verse in California (half in Los Angeles, half in the Bay Area).
"Every bit helps in California," Hill said. "Every bit helps."
PITA'S DEBUT: Highly touted newcomer Pita Taumoepenu, a freshman from Timpview High, saw his first collegiate action Saturday — appearing on special teams and then on defense in the second half. Taumoepenu was sidelined while the NCAA sorted out some academic issues related to his attendance at two high schools in Tonga before he moved to Utah as a junior.
Whittingham said the Utes were elated when Taumoepenu was cleared to play by the NCAA.
"He's got a lot of upside. Now he's just learning. We had to shut him down for two or three weeks because of the NCAA stuff," Whittingham said. "But now he's back and he's going to be a guy that you're going to see on a lot of special teams and we'll just continue to work him into the defensive rotation."
EXTRA POINTS: Utah used 53 players in the rout ... The attendance was generously announced as 45,053, extending Utah's sellout streak to 20 games ... The 35 points scored in the second quarter was the most the Utes have tallied in a quarter since 1968 ... This is just the second time in team history that Utah has scored 100 points in its first two games. The Utes netted 111 in a loss at Texas Tech and a win over UTEP in 1973.
Contributing: Mike Sorensen
Email: dirk@desnews.com
Twitter: @DirkFacer