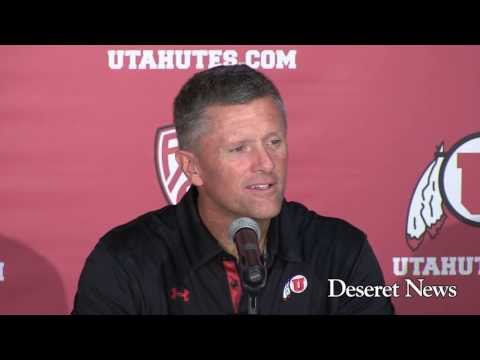 View 51 Items


The twos played the entire second half. The snaps that the twos got were certainly a lot more valuable than the shutout. All those guys are one snap away (from starting).

—Kyle Whittingham, Utah head football coach
SALT LAKE CITY — When your team leads 49-0 at halftime, it's a perfect opportunity to play a lot of reserves.
That's exactly what Utah did Saturday afternoon, emptying its bench in the second half and getting plenty of experience for players who normally don't get the chance to play much.
Unlike the 2008 game with Weber State when the Utes' reserves gave up some late touchdowns and didn't do much on offense to make the final 37-21 score look closer than it was, the Ute reserves held their own this time. They outscored the Wildcats 21-7 in the second half as the Utes rolled 70-7.
"The twos played the entire second half,'' said coach Kyle Whittingham, who wasn't worried about not getting a shutout. "The snaps that the twos got were certainly a lot more valuable than the shutout. All those guys are one snap away (from starting).''
Whittingham praised the play of several players, particularly running back Lucky Radley, quarterback Adam Schulz and the backup defensive linemen and defensive backs.
Radley who is the Utes' fourth running back behind Kelvin York, James Poole and Karl Williams, saw most of the action and ended up with 111 yards on 13 carries and a pair of touchdowns from 17 and 11 yards out.
"Lucky Radley came in and did a nice job,'' said Whittingham. "He was dymanic with his ball-carrying today.''
Radley was happy to get the opportunity and says he hopes it leads to more carries as the season moves along.
"The offensive line did a great job of opening holes for me,'' said Radley. "I'm back in the mix and I need to keep it up. Hopefully I'll get more next week.''
Schulz completed 3 of 5 passes for 26 yards, but didn't throw a pass after the 6-minute mark of the third quarter. He also rushed four times for 29 yards.
Marcus Williams, a freshman running back from Las Vegas who had been playing on special teams, ran 10 times on the Utes' final fourth-quarter drive for 42 yards. Dominique Hatfield, Siale Fakailoatonga and Geoff Norwood caught their first passes as Utes and Norwood returned two punts for 44 yards.
Among the defensive reserves who played well were Sam Tevi, a freshman defensive lineman from Texas, who had five tackles, including a sack and two tackles for loss; freshman linebacker Uaea Masina, who had four tackles; safety Tyron Morris-Edward, who had four tackles; and safety Quade Chappius, who had three tackles.