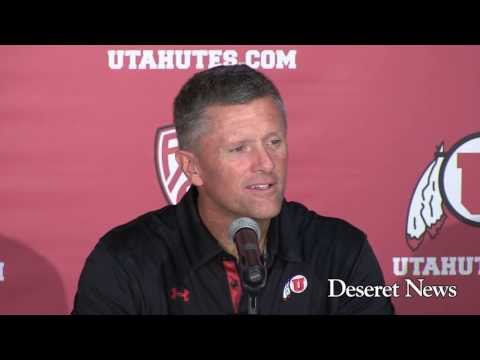 View 51 Items


The hot afternoon at Rice-Eccles Stadium wasn't even a contest. Utah proved once again to another in-state team it is deserving of its Pac-12 affiliation by trouncing Weber State, 70-7.
The good: Football starts and ends a lot with quarterback play, and this game was no different. Travis Wilson played his best game in a Utah uniform and the Utes have found a quarterback for the future. Wilson went 14-19 for 264 yards, throwing three touchdown passes and rushed three times for 93 yards, including two rushing touchdowns. Wilson's composure in the pocket let his receivers get open and allowed him to deliver perfect strikes down the field, and when the pocket collapsed, he used his legs to get downfield. This kid is showing he is the real deal.
The bad: Utah's running game in the first half. Yes, the Utes had some big yards gained, and Lucky Radley showed he can run, given the chance, but one individual player is still not cutting it. Although Kelvin York scored a touchdown, he still can't seem to have big yardage gain and struggles to stay in the game as both James Poole and Karl Williams took over for him in the first half before letting Radley take most of the rush attack in the second half. The same thing happened against Utah State, and this is suppose to be a guy head coach Kyle Whittingham once described as NFL talent. If York continues to play like he has, he is going to lose his starting position.
The ugly: Weber State's game plan. If it expected to beat the Utes physically, it was foolish. If the Wildcats thought they would outsmart Kyle Whittingham, they weren't thinking. And if they thought Utah was going to go up 56-0 before they were able to answer with a touchdown drive, they would have had a better game plan. This game wasn't even close to a contest.
Question of the game: When the Utes threw the ball, good things happened for them all afternoon. When they ran the ball, they struggled. Why don't they just let Wilson throw more deep balls and score more touchdowns? He only threw the ball 19 times in the first half and most of his passes were right on target. Why does Utah go to this offensive scheme to run the ball up the middle twice, then throw a side pass and on the next possession throw the ball down the field for a big gain? Just throw for a big gain all the time.