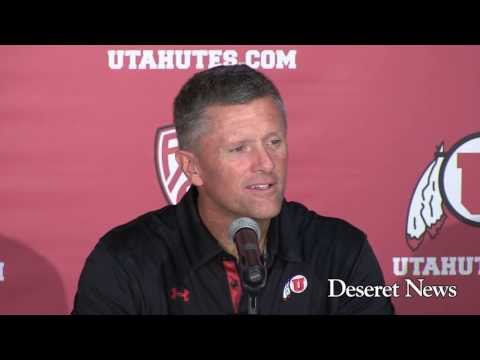 View 100 Items


SALT LAKE CITY — It didn't take long for the Utah Utes to complete their final tune-up before next week's Pac-12 opener against Oregon State.
Saturday's 70-7 win over Weber State at Rice-Eccles Stadium ended up resembling a trip to a lube express or a car wash.
Hi and bye. Thanks for coming. Drive home safely.
"Obviously it was a big win," said Utah coach Kyle Whittingham. "We did some good things as far as a lot of points, rushed the ball well, and threw the ball well."
Even so, Whittingham didn't want to call it a tune-up.
"We wanted to get better at the things that we had problems with last week (against Utah State)," he said. "And I think we accomplished that, for the most part."
The Utes, who wound up with their highest point total since scoring 82 against UTEP in 1973, raced out to a 49-0 halftime advantage — sealing the deal quickly and efficiently. Quarterback Travis Wilson led the way by completing 14 of 19 passes for 264 yards and three touchdowns over the first two quarters. He also ran for 93 yards on three carries in the opening barrage.
Wilson got things started with a 38-yard touchdown run with 9:07 remaining in the first quarter. Less than four minutes later, he connected on an 80-yard scoring strike to Sean Fitzgerald.
Leading 14-0, Utah picked up even more momentum in the second quarter. In a span of less than 10 minutes to close out the half, the Utes scored four touchdowns.
Kelvin York opened the outburst with a 24-yard run to the end zone. Wilson followed with a 57-yard touchdown toss to Dres Anderson and a 51-yard run for a score. Before Wilson capped of the decisive burst with a 1-yard TD strike to Fitzgerald, Mike Honeycutt returned a fumble 21 yards for a touchdown.
"Travis was amazing. I felt like he was going for the Heisman Trophy," Anderson said. "He was running, passing — all of that. He looked great."
Utah co-offensive coordinator and quarterbacks coach Brian Johnson also liked what he saw.
"He did a great job. He's continuing to grow, continuing to develop. He's playing with a ton of confidence right now," Johnson said. "I'm proud of the way he's playing. He stepped up and you see him maturing right before our eyes."
The Utes had 424 yards of total offense at the break and 13 first downs. The Wildcats, meanwhile, had only 90 yards and five first downs.
Wilson was replaced by Adam Schulz in the second half. Early on, Utah quickly increased its 49-0 lead on a 17-yard touchdown run by Lucky Radley.
Weber State responded with its only points on the ensuing possession. Josh Booker capped a 13-play drive with 3-yard touchdown run with 7:17 remaining in the third quarter. It was just the second and final time the Wildcats managed to cross midfield in the game.
After having their lead cut to 56-7, the Utes fired back with two more scores by game's end — off touchdown runs by Radley (11 yards) and Marcus Williams (1 yard). Kicker Andy Phillips capped all scoring in the lopsided affair with his 10th PAT.
The win was Utah's widest margin of victory since a 66-0 decision over Idaho State in 1994.
"That's a big, physical, explosive football team," said Weber State coach Jody Sears. "Just the size, the speed and the strength reared its head and exposed us on several occasions. I offer no excuse."
The Utes wound up with 528 yards of total offense, while the Wildcats were held to 202.
"I think both sides of the ball played great," said Utah defensive end Trevor Reilly.
Utah's defense netted seven sacks, the most since getting eight in the 2009 Sugar Bowl win over Alabama. Defensive end Tenny Palepoi topped the Utes with eight tackles.
"The offense did a really good job of keeping us off the field. Every series that we came into, we were pretty fresh," Palepoi said. "A lot of credit goes to them for helping us out. I felt like we played pretty solid up front and it continued throughout the game, so it was a big plus for us."
Both teams return to action next Saturday. Utah (2-0) hosts Oregon State and Weber State (1-1) heads to Utah State.
Email: [email protected]
Twitter: DirkFacer