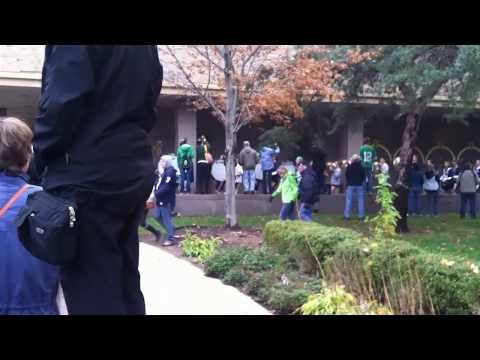 View 6 Items

PROVO — BYU's LaVell Edwards Stadium is one of the most picturesque places to watch a football game. However, it isn't known as a top tailgating spot.
Sure, there's a few true-blue BYU fans that arrive early and have a good time. However, Cougar tailgating pales in comparison to those at other major college football powers.
Since BYU went independent, fans have been able to visit some of the best tailgating sites in the nation. In 2011, BYU fans experienced The Grove at Ole Miss, as well as Texas-style tailgating in Austin. Last season, the Cougars visited Georgia Tech on its homecoming as well as the beautiful campus of Notre Dame.
This season, BYU will return to South Bend, and it will add Wisconsin's Camp Randall Stadium to its big-time tailgating tour.
In short, the Cougars have observed the best from across the nation when it comes to tailgating.
Granted, not everything about tailgating across the country fits in at the long-standing No. 1 Stone Cold Sober school in the nation. However, there's much that BYU can bring back to Provo while still maintaining its unique tradition, spirit and honor.
So, what can they learn from these tailgating giants?
Let's start with Ole Miss.
The Grove is the perfect place to hold a tailgate. It's an attractive grove of trees right in the heart of campus, and on game day it's covered with tents and fans as far as the eye can see.
The only space left open is the Walk of Champions. That's where the team walks among the fans on the way to Vaught-Hemingway Stadium. While the Rebels aren't the only team to feature the team walking through thousands of fans before every home game, it's particularly well done at Ole Miss.
In fact, BYU is adopting something similar starting on Saturday against Texas. BYU will start the "Cougar Walk" where the team will walk into the stadium from the east through lines of BYU fans two hours before the game starts.
Of course, this new tradition will only work if fans are committed enough to show up early.
Speaking of commitment, the Rebels are fully invested in their team. The Grove opens up at 9 p.m. every Friday before each home game, according to university rules. I visited Ole Miss when BYU played there in September of 2011, and every fan I spoke to said that they had their tents in place just as soon as possible.
In fact, many of the fans have occupied the same spot every Saturday in the Grove for decades. If BYU fans had the same commitment, Provo's reputation as a tailgating destination would skyrocket.
And most important of all, Ole Miss fans make sure to make every home game a special event.
The Rebels show up at The Grove dressed up as if they were going to a dance or some other semi-formal social event. They decorate their tents with the greatest care. Some even have candelabras or chandeliers hanging from the center of their tent.
Unfortunately, BYU doesn't have a convenient grove of trees right next to LaVell Edwards Stadium. But the same ideas and principles still apply. Why not make every BYU home game something to remember through tailgating?
Notre Dame doesn't have a grove for tailgating either, although the campus is remarkably beautiful — tailgating is still top-notch at South Bend.
The Cougars can learn a lot from the tradition that permeates every corner of Notre Dame's campus. Besides, it is associated with the Roman Catholic Church, just as BYU is associated with The Church of Jesus Christ of Latter-day Saints.
I was in South Bend last October when BYU played the Irish, and I asked many of the fans about what made Notre Dame special. All of them talked about the tradition.
Bob Messina, though a long-time Irish fan, made his first trip to South Bend from New Jersey. Hours before the game, he called his experience, "Totally, totally, totally outrageous."
Roger Mattens, a 60-year-old Irish fan, waxed philosophical about tailgating.
"People welcome you to ND's campus. It doesn't matter which team you're supporting — if you come to Notre Dame, you're part of the family. Every fan that walks by the ND ushers are welcome. That's the way it's supposed to be. I've always believed that if the fellowship that is found at tailgating could permeate the world, we would have no strife, we would have no war, we would have no conflict."
BYU fans can surely get behind that kind of philosophy, can't they?
Then, some fans get creative with how they support their team.
For example, there's a reflecting pool in front of Notre Dame's Hesburgh Library with the famous "Word of Life" mural painted on the front. Each Saturday morning, the Notre Dame band marches out to practice for the upcoming game.
A few years ago, a student named Marko Pesce and a few friends decided to float on the reflecting pool as the band marched by. After the band marches by, they run to catch up and meet the band in the Stonehenge fountain.
Pesce has since graduated, but Bobby Weltner and Mike Lucente have kept this tradition going strong. They'll float that pool no matter the weather.
"Late in the season they tend to drain the reflecting pool sometimes. But we're still there," Lucente said.
Jennifer Buckler, a native to the South Bend area, commented on the overall atmosphere. "I love to be here. I got sucked in early to the mystique of the football, the drama the pageantry of the team, of the university. Win or lose, I love them. Just being here on game day is one of the best things. It's one of the highlights of the year for me."
Why can't Provo be like that?
Now, BYU shouldn't try to create an exact copy of Ole Miss or Notre Dame. As Bronco Mendenhall reminds us, BYU has its own tradition, spirit and honor.
With a little effort and a lot of fan support, BYU can apply what they've learned to create something special before every home game at LaVell Edwards Stadium.
Lafe Peavler is a National College Football Featured Columnist for Bleacher Report. Follow me on Twitter @MasterPeavler