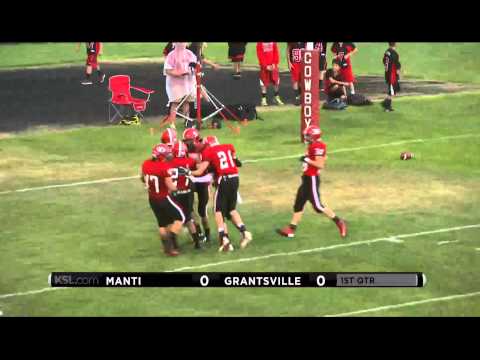 View 2 Items


It's all or nothing right here, the whole game doesn't matter except for that play

—Grantsville linebacker Ky Fisher
GRANTSVILLE — By its own lofty standards, Grantsville's defense did not play very well Friday night against Manti, 3A's No. 1 team. But, with the game on the line in overtime, that stout defense finally rose to the challenge.
With Manti electing to go for the victory on a two-point conversion in overtime, Grantsville's defense snuffed out the run play perfectly, tackling the ball carrier behind the line of scrimmage to preserve a wild 34-33 victory.
"When we needed it, they gave it to us," said Grantsville coach Tony Cloward.
Grantsville linebacker Ky Fisher said he wasn't nervous at all when Manti decided to try for the win instead of kicking an extra point and sending the game into double overtime.
"It's all or nothing right here. The whole game doesn't matter except for that play," said Fisher, who added two scores offensively.
The much anticipated showdown between No. 1 and No. 2 featured crazy momentum swings throughout the night, but Grantsville junior quarterback Nephi Meono stayed calm.
After a shaky first half, Meono was superb in the second half, tying the game at 27-27 on a 20-yard touchdown run on fourth-and-3, and then scoring the go-ahead touchdown in overtime on an 11-yard burst.
"I was a little frustrated in the first half 'cause it seemed like he made some poor decisions in the read option," said Cloward. "Then he came out in the second half and made every right read. We just saw a young quarterback grow up in two halves of football."
Both teams suffered through major mental mistakes in a strange first half for both teams.
Wyatt Barrus gave Grantsville the early 6-0 lead, returning a fumble 18 yards for the touchdown, and after a muffed Manti punt four plays later, the Cowboys capitalized on the short field to increase the lead to 13-0 early in the second quarter on a Fisher 12-yard receiving TD.
Grantsville maintained the lead until late in the first half when it mentally imploded.
Over the final 3:06 of the half, Manti's Connor Aste connected with Bradly Sego on a pair of touchdowns passes and then completed a desperation 36-yard TD heave on the last play of the half to Jared Scheiss to put Manti ahead 20-13.
It was a stunning turn of events.
1
comment on this story
"We challenged them at halftime. We said, 'You wanted this game, somebody to compete against, someone to make a statement, someone to earn respect, and here you are with a 13-0 lead and then give it up,'" said Cloward.
The Cowboys responded by marching 77 yards on the opening drive of the second half to tie the game at 20-20 on a Fisher 3-yard run.
Manti had a response of its own with a 15-play drive that Fowles capped with a 1-yard score, putting Manti back in front 27-20.
It could've easily been the game-winner had Meono not made numerous clutch plays down the stretch as Grantsville improved to 3-0.