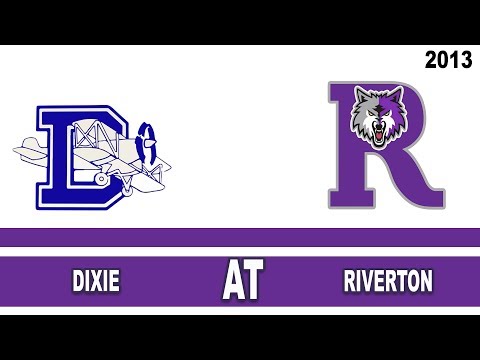 RIVERTON — Don't look now, but the Riverton Silverwolves are in postseason form. For the third-straight week, coach Mike Miller's well-defined wing-T formation dominated.
Friday night, the Silverwolves took apart defending 3A champion Dixie 57-24 in a nonregion game.
"We're not big, and we're not deep," said Miller. "We use a lot of deception to make it work. We're getting better every week."
That's not good news for future Riverton opponents. The Silverwolves have outscored their opponents 137-34 so far. On a windy evening at home, they put Dixie away quickly.
Riverton had 376 rushing yards by halftime. The Silverwolves started the game with a 72-yard, 11-play drive that went for a touchdown. They had 376 rushing yards alone by halftime and finished with 544 total yards on the ground.
No one player stood out, but quarterback Connor Henderson ran for three touchdowns and passed for another. He also had a fine game on defense as Riverton haunted Dixie quarterback Ammon Takau, forcing four interceptions.
"I'm not sure he has seen a secondary that fast," said Dixie coach Blaine Monkres, whose preseason schedule has included Northern Utah teams Springville, Lehi and Riverton already this season.
"It's a 3A vs. a 5A, but it's good for us to play them," he added. "We see two other winged-T offenses in our league, so it's best that we get the bugs out now and learn how to play them."
Dixie never led in the game. Coach Monkres said the Flyers had several players hurt in last week's 51-28 win over Lehi. The Flyers trailed 15-0 early, but Takau rallied the team with a couple of second-quarter touchdowns that narrowed the score to 23-16 with 5:13 left in the second quarter.
The game got out of hand shortly afterward as Henderson ran 20 yards for a score, Cameron Christensen ran 40 yards for another touchdown, and the two combined on an 18-yard touchdown pass before intermission.
"A few things happened and we got a little momentum, and then we kicked it in," said Miller.
The biggest play might have come in the first quarter. Leading 7-0, the Silverwolves faced fourth-and-2 from their own 46-yard line. However, Yuri Yassin got around the right end on a fake punt and ran for a touchdown.
"Little plays like that can make a big difference," Miller said.
The game was never in doubt in the second half, and much of it was played with a running clock.
Bruce Smith grew up in Boise, Idaho, and is a longtime newspaper sports writer. He writes primarily high-school sports articles for the Deseret News.