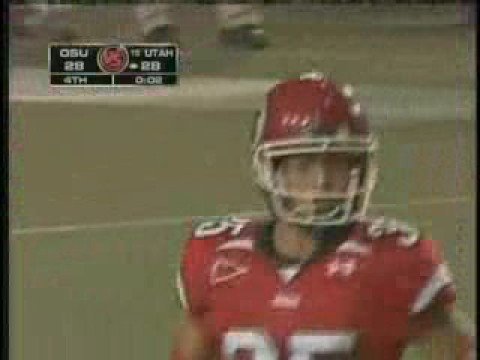 View 5 Items


Now that (Phillips has) kicked in a game and that's translated from practice … phenomenal poise and mental toughness. I couldn't be more pleased with what he did.

—Kyle Whittingham, Utah head football coach
Andy Phillips just might be the best thing since sliced bread — or at least since King Louie Sakoda.
Yes it has only been one game, but following his performance against Utah State, media and fans immediately jumped on the Phillips bandwagon. Even Kyle Whittingham, although a bit more cautious, seems to be joining in on the fun.
"Outstanding," Whittingham said. "I was bragging on him through fall camp, but with an asterisk saying he'd never kicked in a game yet, and don't get too excited about things at this point. But now that he's kicked in a game and that's translated from practice … phenomenal poise and mental toughness. I couldn't be more pleased with what he did."
A week later may or may not be too soon to be speculating, but surely the promise shown in Phillips' game is still resonating.
The skier-turned-place-kicker opened eyes during the Utes' season opener.
Phillips' accuracy, strength and charisma all resembled the Sakoda Utah fans love and miss, but the attributes that stood out the most were his confidence and ability to keep a level head with pressure closing in on him.
Phillips stepped into three different field goal opportunities that had unique pressures of their own, and finished every single one with ease. The first one was short, however it was Phillips' first in-game kick. The second was long, from 45 yards out. And the third one put the nail in Utah State's coffin.
Phillips handled each situation with poise despite a stadium full of about 44,900 more skeptical fans than a typical ski race. However, the wanna-be believers' attitude quickly changed with each kick Phillips took, and those fans eventually gave the new kicker the most support he could have ever dreamed.
This confidence in the kicking game has been absent since King Louie abandoned his throne after helping the Utes to a BCS-busting year and a Sugar Bowl victory in 2008.
In case a refresher course is necessary, Sakoda was loved by the Utes. He was known for kicking accurately under pressure and having the leg to kick from 45-plus yards out.
Sakoda finished his stint at Utah with 308 career points, a school record. He is the only unanimous Consensus All-American in Utah football history, earning first-team place-kicker honors in 2008. Sakoda's longest field goal ever was 53 yards.
Sakoda was clutch. If time was about to expire with an undefeated season on the line, there was no way he was going to miss that field goal.
Take a minute to travel down memory lane, and enjoy the memories. There are two instances when one of Sakoda's kicks won the game with no time left on the clock, two games when it felt especially good to be a Ute.
In 2006, Utah found itself all knotted up with Air Force and only three seconds remaining. Sakoda took the field for a 37-yard field goal, which he pounded through the uprights.
A couple years later, Sakoda entered the game in a similar situation with an even bigger game on the line. Utah was trying to complete the impossible by scoring 11 points in the last 90 seconds to beat Oregon State. Sakoda kicked a 38-yard field goal, which in turn earned the Utes a 31-28 victory, a 5-0 undefeated record and sent Rice-Eccles into a frenzy.
Now back to the present. Since the perfect 2008 season, the Utes have not had a kicker even come close to the clutch kicking abilities of Sakoda — until now.
Honestly, after one game there was just something about the way Phillips handled himself that was strikingly similar to Sakoda.
Phillips has a lot to prove still, no doubt about that. But with a start to his career like last Thursday, all signs point to Phillips assuming Sakoda's throne.
Whitney O'Bannon is a new media sports writer for the Deseret News. Follow on Twitter at @whitney_oban.