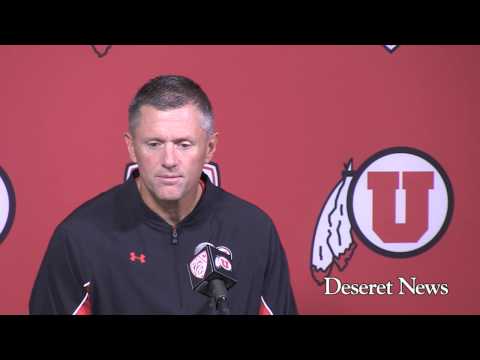 View 4 Items

We've got to keep working. One game doesn't a season make, but we saw some really good things for the first game out of all aspects of the throwing game.

—Kyle Whittingham
SALT LAKE CITY — Travis Wilson is making measurable progress as Utah's starting quarterback.
In last week's 30-26 win over Utah State, Wilson topped 300 yards passing for just the second time in eight starts. He completed 17-of-28 passes for 302 yards and two touchdowns with no interceptions.
The performance drew praise from Utah coach Kyle Whittingham, who noted that the sophomore's pass efficiency rating in the game was greater than that of USU quarterback Chuckie Keeton.
Whittingham also said that Wilson's 300-yard game on only 28 attempts was "outstanding." When he reached the milestone last season against Arizona, Wilson was 28-of-40 for 311 yards. Utah, though, lost the game that day, 34-24.
The Utes, in fact, were 3-4 with Wilson as the starter last season. In this year's opener, Whittingham said he saw a lot of growth and maturity — something the coaching staff also took note of in spring ball and throughout preseason camp.
"But obviously he didn't have a chance to show it in a game until this past week," Whittingham said. "But he made great decisions. He threw the ball very efficiently."
Whittingham is hopeful that 300-yard passing games come with regularity.
"That's something that last year was lacking. We couldn't get a 300-yard throw game," said Whittingham, who said the Utes can have a pretty potent offense if consistency can be established in the air and on the ground. "We've got to keep working. One game doesn't a season make, but we saw some really good things for the first game out of all aspects of the throwing game."
Of particular note, Whittingham liked the protection, route structures and where Wilson put the ball in his first game under co-offensive coordinator Dennis Erickson.
"I definitely felt really comfortable," Wilson said. "I think our O-line did a great job. We had a couple of sacks but other than that I thought my O-line did great. The wide receivers did a great job of getting open, too."
Reaching the 300-yard mark passing is something Wilson shoots for each game.
"That's definitely efficient for getting passing yards," Wilson said. "Hopefully I can keep on progressing towards that, too."
Wilson likes the faster tempo Utah is employing and acknowledged that having a great group of wide receivers around has helped make him better.
"I think I just have a lot of more confidence," he said.
And there's more, according to Whittingham. The coach said Wilson has more command of the offense and a better understanding of concepts than a year ago. He's making better decisions and showing improved patience.
"Coach Erickson has streamlined things a little bit so it's a little easier to grasp and we're just trying to play to Travis' strengths," Whittingham said. "And he's a better runner than people give him credit for, as I've said over and over, and I think you saw that a couple of times in the game on Thursday night — where he escaped the pocket and made some big plays."
14
comments on this story
Wilson is a guy that is much improved, Whittingham continued, and the Utes need that trend to continue.
"He took control of the game against Utah State. When we were down he was poised and he was ready. It seemed like nothing fazed him," said senior wide receiver Sean Fitzgerald. "He just kept playing through and I think that's the difference. Now he's more mature, he knows defenses better, he knows our offense better and he's more confident — more of a leader and ready to take control of games."
Email: dirk@desnews.com
Twitter: @DirkFacer