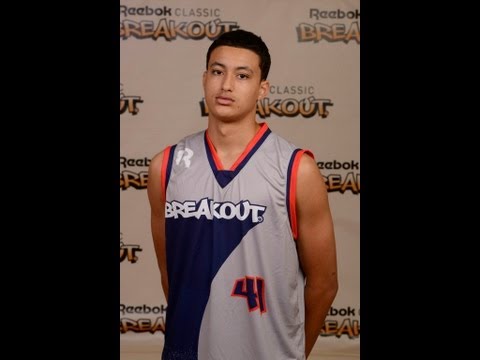 View 2 Items

I never thought I would go to Utah. I mean, I knew nothing about Utah when the coaches first approached me, but I began to understand that everything there is perfect for me. The system, the atmosphere and the coaches — it's all exactly what I'm looking for.

—Kyle Kuzma, Utah Utes basketball commit
FLINT, Mich. — Building strong relationships with coaches often plays big in recruiting. Just ask Kyle Kuzma.
Kuzma is a 6-foot-9, 205-pound prospect, who recently committed to Utah, primarily due to the relationship he established with coach Larry Krystkowiak.
"He was just more straightforward and down-to-earth than the other coaches who recruited me," Kuzma said. "I like (how) he talks to you, and my relationship with him and with coach (DeMarlo) Slocum is probably the biggest reason I chose Utah."
Regarding the choices Kuzma had — there were a lot of them.
The Flint, Mich., product held offers from standout programs like Connecticut, Arizona State, Memphis and Minnesota, among many others.
So why Utah?
"Utah just feels like family to me," Kuzma said. "The players, the coaches — I just felt more at home with them than with any other school that offered me."
Kuzma committed to the Utes while on his official visit late last week. During the visit, he was able to attend Utah's football game against Utah State.
"Seeing how great the Utah fans were and how passionate they were about the school is something I liked a lot," Kuzma said. "I love the atmosphere there, but the big reason for my commitment was my relationship with coaches and with the players."
Kuzma's official host on his visit was point guard Brandon Taylor.
"I really got along with Brandon well, but it wasn't just him — it was everyone," Kuzma said. "They made me feel like I was part of their family immediately."
Kuzma will join Utah's program after this season and is excited to be part of what he believes is a program on the rise.
"I never thought I would go to Utah," he said. "I mean, I knew nothing about Utah when the coaches first approached me, but I began to understand that everything there is perfect for me. The system, the atmosphere and the coaches — it's all exactly what I'm looking for."
Utah also scored a commitment from Isaiah Wright a few days after Kuzma pledged. Wright is a 6-foot-2 guard from Boise, Idaho, who is the state's reigning Gatorade Player of the Year. He held offers from Boise State and from Creighton among other programs at the time of his commitment.
Email: bgurney@desnews.com
Twitter: @BrandonCGurney